December 7, 2019
The Case of the December Bride and other crimes from Indy police files
Click here to listen to the podcast.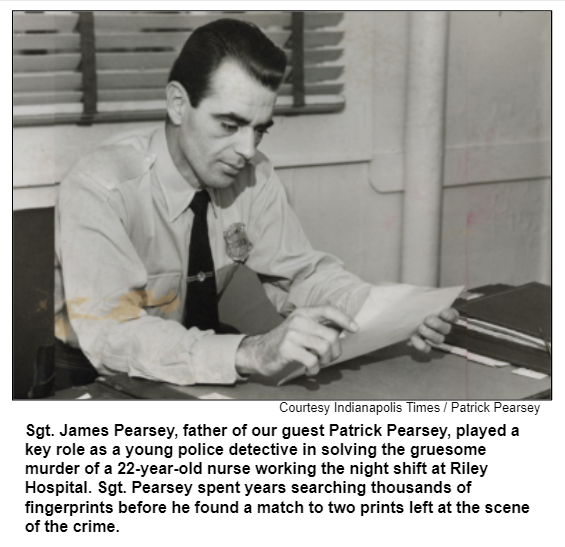 In the late 1930s, a brutal crime made headlines in Indianapolis as the "Case of the December Bride," so-called not because of the month in which the murder was committed - it happened in January - but rather because of the relative ages of the married couple involved.
The victim, Carrie Romig, who was fatally beaten with a claw hammer, was in her 50s. Her body was discovered in the couple's apartment on West 12th Street by her husband, Harold Romig, who was in his 20s.
A "whodunit" mystery unfolded for weeks as suspicion initially fell on Harold Romig, who insisted that he had been at work in a restaurant in an F.W. Woolworth five-and-dime store when the slaying occurred.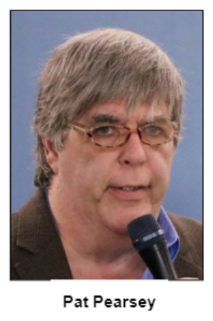 The Case of the December Bride is among the crimes that took place in the Hoosier capital during the early and mid-1900s that we will explore during our show, which examines cases that were once considered sensational but are little remembered today.
They are among the array of cases described in a new book, True Crimes in the Circle City, written by Patrick Pearsey, the archivist for the Indianapolis Metropolitan Police Department (IMPD). He was a guest on a recent Hoosier History Live show about Police Department history in Indianapolis.
Patrick, a civilian member of the police department since 1980, will be Nelson's studio guest for a conversation focused on how crimes illuminate social history. In some cases, the crimes to be discussed on the show involve police officers who were members of Patrick's family; he is the third generation of Pearseys to work for the department.
His father, Sgt. James Pearsey, was a key figure as a young detective in solving another gruesome murder. In 1946, a 22-year-old nurse working the night shift at Riley Hospital was discovered clubbed to death. Witnesses reported seeing a masked figure lurking in corridors of the hospital.
Despite extensive publicity and exhaustive searches, the crime went unsolved for several years. During our show, Patrick will explain how his father - who wanted to redeem himself with his supervisors because of his involvement in an accident with a paddy wagon - toiled on his own time to solve the case. During the early 1950s, he finally was successful.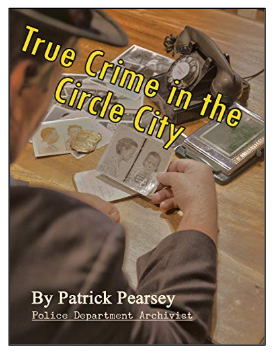 During our show, we also will explore a nationally publicized series of episodes in the early 1900s that became known as the "Case of the Dynamiters." In 1909, simultaneous explosions in four places across Indianapolis woke up residents at midnight. Suspicion fell on unions, particularly the Iron Workers.

The local blasts eventually were tied to a series of explosions that had occurred years earlier in Los Angeles and other cities. After charges were brought against 54 union officials for a nationwide bombing campaign, the trial was held in Indianapolis at what is now known as the Birch Bayh Federal Building and U.S. Courthouse.

A fourth case we will explore during our show focuses on a moonshiner, Ivan Coy, whose farm near Brownsburg was raided in 1930 during Prohibition. After authorities found a 40-gallon still, Coy was sent to prison. Upon his release, he became a suspect in a burglary and led Indianapolis police on a wild foot chase that involved gunfire in which a police officer was seriously wounded. A car chase followed: Coy forced an innocent motorist to drive him to Martinsville, where authorities spent days searching for him.

For that case and the others that Patrick has included in True Crime in the Circle City, he relied on a variety of sources. Some historic cases investigated by IMPD - along with mugshots, crime scene information and personnel records - are included on a digital collection about the police department's history that has been put together as part of a partnership with the Indianapolis Public Library. Patrick and other IMPD staffers helped with the collection, which launched a few months ago on the library's Digital Indy website.



Roadtrip: Indiana Birding Trail
Where are the birding hot spots in Indiana? Guest Roadtripper and nature enthusiast Terri Gorney of Fort Wayne tells us about the new Indiana Birding Trail website, officially "open for business" in January 2020.
The Indiana Birding Trail was created under the auspices of the Indiana Audubon Society. It was designed in part to promote tourism and outdoor recreation by posting online birding maps and creating new signs that will be installed throughout the state.

From the shores of Lake Michigan to the banks of the Ohio River (and everything in between), Indiana's diverse habitats of prairies, wetlands, and forests have created homes for over 400 documented bird species.

For the Indiana Birding Trail, 64 locations in Indiana have been designated birding "hot spots," with the state divided into five regions: Northwest, Northeast, Central, Southwest and Southeast.

Areas listed include Goose Pond, Brown County State Park, Fort Harrison State Park, Eagle Creek, Jasper-Pulaski, Dunes State Park, Eagle Marsh, Fox Island, Pokagon State Park and Limberlost Swamp Wetland Preserve. Each area has a write-up on the website of what birds to expect to see, the habitat, and amenities in the area.

Even if you are a beginning birder or just like seeing the scenic beauty of the state, the birding trail will offer you endless variety of the natural beauty of the Hoosier State. The Indiana Birding Trail website isn't live yet, but if you click on the link you can sign up to be notified when it does go live in January.

History Mystery
The beginnings of the Indianapolis Metropolitan Police Department can be traced to 1821, when civic leader Hervey Bates became the first Marion County sheriff. Eventually, Hervey Bates also became the owner of a well-known building that even became associated with Abraham Lincoln.
The building Bates owned was demolished nearly 120 years ago, but it was the most prestigious of its kind in Indianapolis during the 19th century.
Question: What type of building was owned by Marion County's first sheriff, Hervey Bates?
Hint: It has been discussed during several Hoosier History Live shows, including a program in October about police history that also featured IMPD archivist Patrick Pearsey as a guest.
The call-in number is (317) 788-3314. Please do not call into the show until you hear Nelson pose the question on the air, and please do not try to win the prize if you have won any other prize on WICR during the last two months. You must be willing to give your name and address to our engineer and be willing to be placed on the air.
The prizes this week are four tickets to Indy's Teeny Statue of Liberty Museum, courtesy of Tim and Julie's Another Fine Mess, and two tickets to the Indiana History Center, courtesy of the Indiana Historical Society.
Talkin' bout a revolution(ary): Hoosier Eugene V. Debs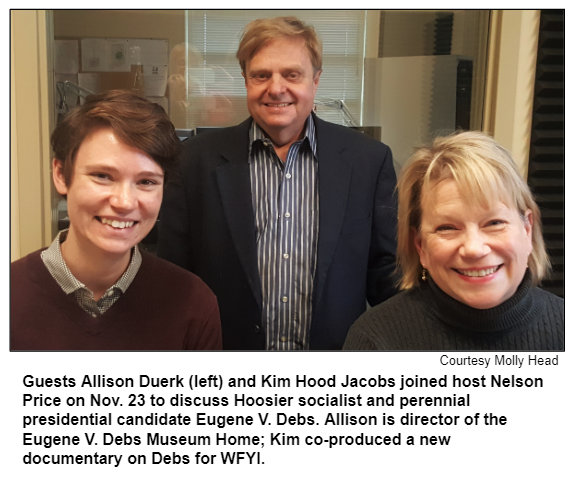 Nelson Price, host and historian
Molly Head, producer/general manager, (317) 927-9101
Michael Armbruster, associate producer

Cheryl Lamb, administrative manager
Richard Sullivan, senior tech consultant
Pam Fraizer, graphic designer
Garry Chilluffo, special events consultant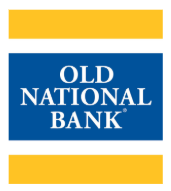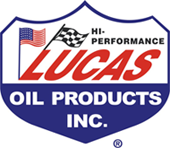 Please tell our sponsors that you appreciate their support!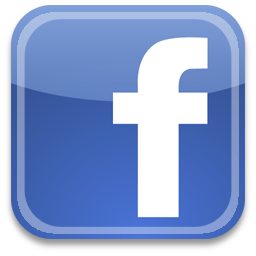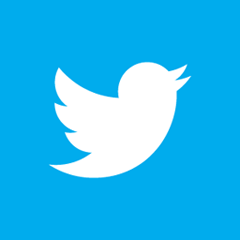 For organizational sponsorship, which includes logos, links, and voiced credits in the show and in podcasts, contact producer Molly Head at (317) 927-9101 or email her at molly@hoosierhistorylive.org. Our podcast listens are increasing at a rate of 17% a month!
Acknowledgments to Visit Indy, Fraizer Designs,WICR-FM, Henri Pensis, Aaron Duvall, Chloe Tyson, and many other individuals and organizations.
Thank you!
We'd like to thank the following recent, new and renewal contributors whose donations help make this show possible!
Bruce and Julie Buchanan
David Willkie
Coby Palmer in memory of Gary BraVard
Tim Harmon
Jane Simon Ammeson
Kathleen Angelone
December 14, 2019 - coming up
Meridian Street mansions in Indy history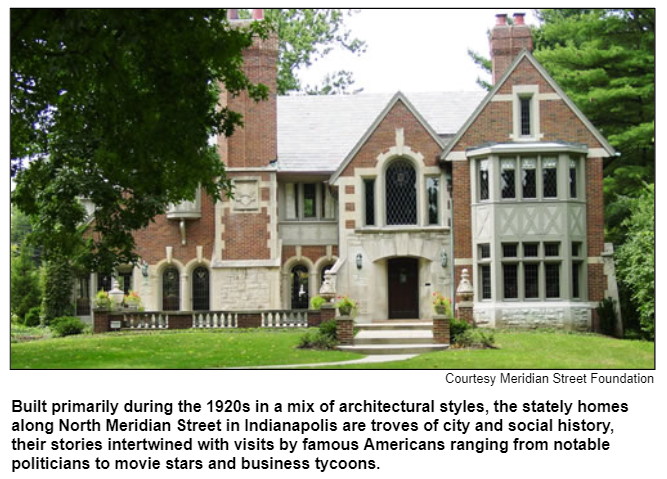 As showplace mansions built primarily during the 1920s with a mix of architectural styles, the stately homes along North Meridian Street in Indianapolis captivate motorists on one of the Hoosier capital's busiest streets. Not only is Meridian the city's east-west divider, the street is the route for U.S. 31 on the Northside.
The mansions in the North Meridian Historic District - 177 structures on both sides of the thoroughfare between 40th Street and Westfield Boulevard - are troves of city and social history, their stories intertwined with visits by famous Americans ranging from notable politicians like John F. Kennedy, Harry Truman and George H.W. Bush to movie stars and business tycoons.
With, in many cases, marble entryways, third-floor ballrooms, leaded glass windows, French doors, terraces, turrets, crystal chandeliers and carriage houses, the mansions will be the focus of our show as we explore more than 100 years of their history, including the 1960s and '70s, when the homes fell out of favor and often could be purchased for a pittance. The Meridian Street Foundation was formed in 1960 to protect the heritage of the homes; during the 1980s, the district was added to the National Register of Historic Places.
Nelson's studio guests will include Kassie Ritman, the author of two new, deeply researched books about the history of the mansions: Meridian Street, part of Arcadia Publishing's Images of America series, and Meridian Whispers (Knocking River Press).
Other guests will include civic leader Peggy Sabens, who lives in a Meridian Street mansion built between 1926 and 1929 that's considered to be among the district's best-preserved historic homes. Peggy, a former president of the Meridian Street Foundation, and her late husband, a physician, bought the mansion from an owner who had a direct connection to a celebrity unlikely to be associated with the elegant mansions: the pro wrestler known as Dick the Bruiser.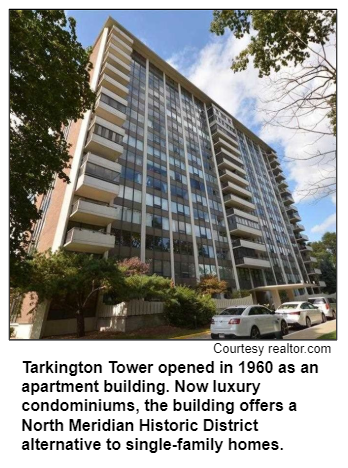 Her home was built in the Tudor style, as was the Meridian mansion that became the residence of Pulitzer Prize-winning novelist and playwright Booth Tarkington (1869-1946). Other mansions - which typically have landscaped gardens - were built in architectural styles ranging from French Renaissance and Southern Colonial to Colonial Revival, Italian Renaissance and Renaissance Revival.
Much as there is to explore about the mansions and their previous, illustrious owners - who included early auto-making families such as the owners of the Cole Motor Car Company and nationally known political figures like Bill Ruckleshaus, who died last month - we will broaden our scope to examine changing demographics over the years. Current owners of the historic houses include many families with young children.
We also will explore buildings in the North Meridian Historic District that are not single-family homes. They include Tarkington Towers, a high-rise that opened in 1960 as apartments and now is luxury condominiums, and a restaurant in the 5600 block of North Meridian that today is called The Meridian. Many listeners will remember the restaurant as Dodd's Townhouse, its long-time name under previous ownership. Part of the restaurant's structure was built as a log-walled farmhouse in 1900, according to Kassie's books.
The North Meridian Historic District includes both the current residence of Indiana's governor - a mansion at 4750 N. Meridian built in 1928 - and a former governor's mansion. The latter is a grand house in the 4300 block built in 1920 with buff-colored brick and a green-tiled roof that served as the governor's residence from 1945 through the early 1970s.
© 2019 Hoosier History Live. All rights reserved.