December 28, 2019
Restaurants: the old, the new and their souvenirs
Click here to listen to the podcast.
Remember when it was common for dining establishments to offer customers distinctive placemats and other souvenirs as thanks for their patronage?
Those kinds of keepsakes are mostly bygone now, but Terry Kirts, the dining critic for Indianapolis Monthly magazine, has a stash of placemats from Hoosier restaurants. Terry will describe the souvenirs when he is Nelson's studio guest for the final Hoosier History Live show of the year. As per our year-end tradition, the show will explore dining trends and establishments: this time around we will take a look at restaurants that have closed, those that are anticipated and some that have opened in historic structures.
The latter include Taxman Brewing Co., a pub and beer-garden that has opened in a former livery stable in the Cityway area on downtown Indy's south end. As Terry reported in an article for Indianapolis Monthly's website, the historic livery was moved a few blocks to accommodate residential and retail expansion in Cityway.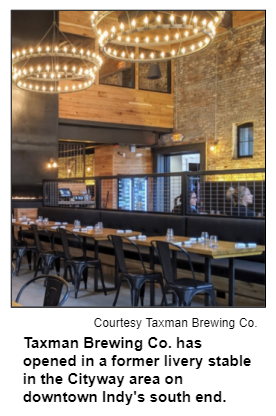 Terry also reports news about Clancy's, a popular regional hamburger chain that was based in Noblesville beginning in the mid-1960s. The original Noblesville location (which Terry says offered central Indiana's "first double drive-thru at one point") closed along with other Indiana sites a while back, but he reports Clancy's will make a comeback here during the new year. Clancy's, which was named after a cartoon cop, plans to open among the restaurants in the massive Bottleworks development on Massachusetts Avenue in downtown Indy that's expected to open in phases beginning in 2020.
Even though some old favorites are returning, others closed during 2019. They include Poe Brothers Cafeteria, a family-owned landmark in Morgan County since 1960. At one point, the Poe family owned cafeterias in both Mooresville and Martinsville, which were patronized by celebrities including Larry Bird and Bob Knight. The last Poe Brothers closed in Mooresville in September.
Another closing of a landmark was announced this month: Ike and Jonesy's, a retro-themed (1950s and '60s) pub located in downtown Indy, is expected to have its "last hurrah" on New Year's Eve, according to The Indianapolis Star. In 1984, soon after the Indianapolis Colts began playing at the stadium known then as the Hoosier Dome, Ike and Jonesy's was one of the first new establishments to open nearby, kicking off the revival of the Wholesale District.
At a distinctive location elsewhere in downtown Indy, a landmark building with a pub that opened during Prohibition - and closed in 2017 - has become the home of new restaurant. Terry and Nelson will discuss The Flatiron, a restaurant that opened this year at the three-way intersection of Fort Wayne Avenue, East North Street and Pennsylvania. The Flatiron takes its name from the triangular footprint of its building, which had housed the Elbow Room since the 1930s.
We will keep the phone lines open for listener calls during our entire show, so feel free to call in with comments about restaurant souvenirs, bygone and revived dining establishments, and any other aspect related to dining out. The phone number to call in to the WICR-FM studio and join Terry and Nelson on the air is 317-788-3314.
Roadtrip: Wick's Pies in Winchester
Guest Roadtripper and food and travel writer Jane Ammeson suggests a visit to Wick's Pies in the town of Winchester in Randolph County, about an hour and a half east of Indianapolis.
Jane leads us on the quest for a true Hoosier experience: the sugar cream pie, a rich, custard-like confection that has become an Indiana culinary emblem. Also known as Hoosier Pie and honored as the unofficial state pie of Indiana, the sugar cream pie traces its heritage back to the early 1800s.
Containing just a few simple ingredients, the pie is a testament to the creativity and resourcefulness of pioneer women, who had to make do with what was available to them on their often isolated homesteads.
The geographical origins of sugar cream pie can be traced back to Shaker settlements along the Ohio border of eastern Indiana. There are also links to Amish areas in northern Indiana, where the Bob Andy pie, a version spiced with cinnamon and cloves, is popular.
In our pursuit of this confectionary delight, Wick's Pies makes a great starting place. As Jane tells us, the company was founded in Winchester in 1944 and has become famous for its sugar cream pie, made from a Wickersham family heirloom recipe dating back to the 19th century. Wick's started off with the hand production of 36 pies a day but now has grown into a pie force to be reckoned with, distributing their baked goods throughout the United States.
If sugar cream pie just isn't your thing, you'll have lots of other options at Wick's. The inventory includes savory pies (think chicken pot pie and beef pot pie), speciality pies like German chess, mince, gooseberry, black raspberry and sugar-free pies. They also sell house-made noodles and have a bakery café where you can grab a meal that manages to include items other than pie.
But Jane assures us that at Wick's, the main attraction for her will always be the pie!
History Mystery
During last year's final Hoosier History Live show - which focused on supper clubs and restaurants - a bygone dinner theater in Indianapolis also was discussed. A popular nightspot in the 2100 block of North Talbott Street, the dinner theater presented singers and musicians along with other entertainers, including artists and magicians.
Located in a former movie theater, the dinner theater was an anchor from 1968 until 1980 in an area of the Hoosier capital that was then becoming known as "bohemian," according to the book Classic Restaurants of Indianapolis.
Question: What is the name of the bygone dinner theater on North Talbott Street in Indianapolis?
The call-in number is (317) 788-3314. Please do not call into the show until you hear Nelson pose the question on the air, and please do not try to win the prize if you have won any other prize on WICR during the last two months. You must be willing to give your name and address to our engineer and be willing to be placed on the air.
The prizes this week are four tickets to the Indiana History Center, all dressed up for the holidays, courtesy of the Indiana Historical Society, and a gift certificate to Story Inn in Brown County, courtesy of Story Inn.
A stroll through the history of Meridian Street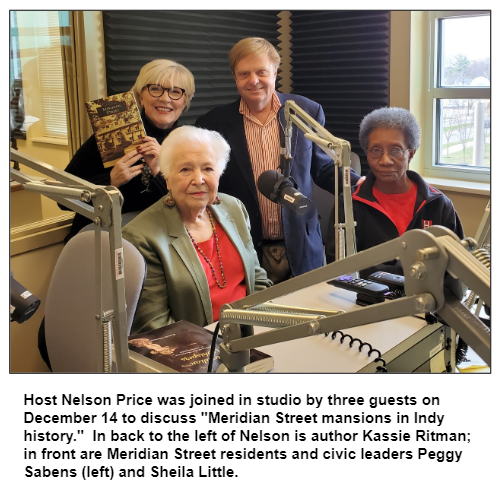 Nelson Price, host and historian
Molly Head, producer/general manager, (317) 927-9101
Michael Armbruster, associate producer

Cheryl Lamb, administrative manager
Richard Sullivan, senior tech consultant
Pam Fraizer, graphic designer
Garry Chilluffo, consultant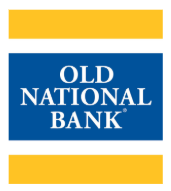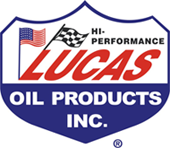 Please tell our sponsors that you appreciate their support!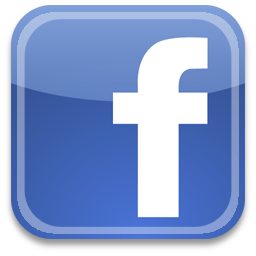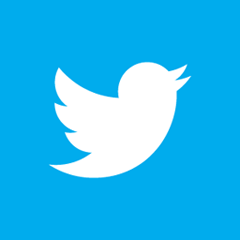 For organizational sponsorship, which includes logos, links, and voiced credits in the show and in podcasts, contact producer Molly Head at (317) 927-9101 or email her at molly@hoosierhistorylive.org. Our podcast listens are increasing at a rate of 17% a month!
Acknowledgments to Visit Indy, Fraizer Designs,WICR-FM, Henri Pensis, Aaron Duvall, Chloe Tyson, and many other individuals and organizations.
Thank you!
We'd like to thank the following recent, new and renewal contributors whose donations help make this show possible!
Bruce and Julie Buchanan
David Willkie
Coby Palmer in memory of Gary BraVard
Tim Harmon
Jane Simon Ammeson
Kathleen Angelone
Chuck and Karen Bragg
"Jingle Bell Rock" in memory of Bobby Helms
Theresa and Dave Berghoff
January 4, 2020 - coming up
Centennial of Indy in 1920, Bicentennial era in 2020-21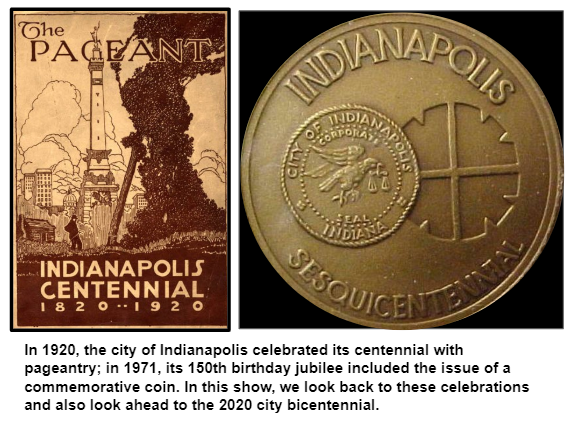 With our first show of the new year, Hoosier History Live will look both backward and forward.
That's because our focus will be not only on how the city of Indianapolis celebrated its 100th birthday in 1920, but also on how the Hoosier capital plans to salute its bicentennial jubilee, which kicks off in June. We also will explore what happened in 1971, when Indy threw a year-long sesquicentennial (or 150th) birthday celebration.
Nelson's studio guest will be Deputy Mayor Jeff Bennett of Indianapolis, who is a key figure in planning the upcoming events. The Indianapolis Bicentennial Commission is co-chaired by two former mayors, Greg Ballard and Bart Peterson.
In June 1920, an "Indianapolis Centennial Pageant" at the Coliseum on the Indiana State Fairgrounds consisted of seven "episodes," or acts, with titles such as "Coming of the Pioneers" and "Selecting a Site," according to booklets and other memorabilia distributed then.
Reenactors portrayed such historic characters as early settlers John McCormick and George Pogue; Indiana's first governor, Jonathan Jennings; surveyor Alexander Ralston, who planned the city, and Dr. Isaac Coe, one of the first physicians to arrive in the new state capital.
The grand finale of a six-day birthday party for the city's centennial in 1920 was held at the White River. Thousands of residents lined the river banks for a band concert and enjoyed a parade of illuminated riverboats, followed by fireworks, according to the Encyclopedia of Indianapolis.
In 1971, the city's 150th birthday involved a year-long celebration that included a multimedia extravaganza at the Murat Shrine Temple (now the Murat Theatre at Old National Centre). The Indianapolis Motor Speedway hosted a special antique car parade and race.
A note on the disparity of dates: The city's centennial was celebrated in 1920 after civic leaders decided to identify 1820 as the birth of the city because of a meeting held that year to specify the location of the new state capital. In 1971, however, the founding was defined as 1821, the year when the Indiana General Assembly approved the site and Ralston laid out the city.
Hoosier History Live has explored aspects of Indy's deepest history on previous programs. These have included a show in June 2019 about the earliest settlers. The guests were a descendant of McCormick (who built a cabin and tavern in what is now White River State Park) and Jordan Ryan of the Indiana Historical Society, which has launched an Indianapolis Bicentennial Project. In 2013 we explored the life of Ralston (1771-1827), a native of Scotland who helped plan Washington D.C. before coming to the Indiana wilderness and designing the city.
Our guest on this new show, Jeff Bennett, has a history degree from Indiana University and has been deputy mayor since 2016. His career includes serving as Warren Township's trustee and working at Indiana Landmarks, the historic preservation organization.
© 2019 Hoosier History Live. All rights reserved.