May 9, 2020
Columbus icon J. Irwin Miller's life and impact
Click here to listen to the podcast.
In 1967, Esquire magazine published a cover story with the tagline: "This man ought to be the next president of the United States."
The reference was to J. Irwin Miller the long-time president of Cummins Engine Company - today, Cummins Inc. - whose impact extended far beyond the business world, both locally in his hometown of Columbus, Ind., and nationally, where he played a significant role in the civil rights movement.
As a recently released biography of Miller (1909-2004) puts it, he led Cummins "from its roots as a small, family business to an international Fortune 500 company and transformed Columbus into a gem of mid-century modern architecture."
Nancy Kriplen the Indianapolis-based author of a recently released biography, J. Irwin Miller: The Shaping of an American Town (I.U. Press), will be Nelson's guest to share insights about the influential civic leader who lured prominent mid-century modern architects to Columbus to design public and private buildings ranging from churches, schools and banks to houses. Among the architectural luminaries: Eliel Saarinen, his son Eero Saarinen (designer of the Gateway Arch in St. Louis), I.M. Pei and Harry Weese.
The distinctive residence that Eero Saarinen designed in the 1950s for Miller's family - featuring a sunken "conversation pit" - has, as Nancy notes in her biography, been listed as "one of the five most significant mid-century modern houses" in the country.
Now a museum known as the Miller House, it is a National Historic Landmark owned by Newfields.
J. Irwin Miller, a Stradivarius-playing arts enthusiast, and his wife, Xenia, who eventually became a collector of oil paintings, had deep Hoosier roots. Miller grew up in a Civil War-era house in downtown Columbus built by his great-grandfather, banker Joseph Irwin.
That spacious house - where, at one point, four generations of the Irwin-Miller-Sweeney family were in residence - is now a bed-and-breakfast, the Inn at Irwin Gardens. It is known for its lavish, Italianate gardens
As a boy, J. Irwin Miller developed a lifelong friendship with Clessie Cummins, who started out as the family's chauffeur but then, using what Nancy describes as his "mechanical genius," pushed for the manufacturing of diesel engines that sparked the success of Cummins Engine Company.
In civil rights, Miller's work with presidents John F. Kennedy and Lyndon B. Johnson included chairing a meeting in 1963 at the White House of a special commission on race and religion.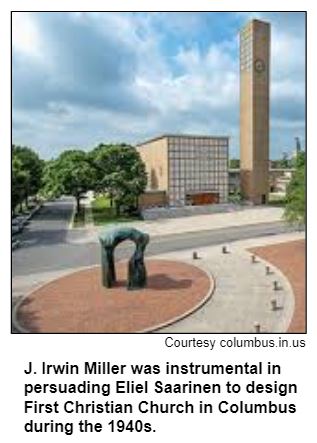 Nancy's biography begins with a highly publicized trip to Columbus in 1967 by Lady Bird Johnson to visit some of the distinctive buildings that make Columbus "an architectural boomtown."
During the 1960s, J. Irwin Miller served as the first board president of Christian Theological Seminary in Indianapolis when it became independent from Butler University. He also was the first non-clergy to serve as president of the National Council of Churches.
In Columbus, Miller was instrumental in persuading Finnish-born Eliel Saarinen to design First Christian Church during the 1940s. In 1964, Eero Saarinen designed North Christian Church, which sometimes has been called "the oil can church" because of the 192-foot, needle-like spire that juts from its distinctive roof. Hoosier History Live explored mid-century modern architecture in Columbus and the city's history in a show in 2016.
The grounds at North Christian Church were designed by noted landscape architect Dan Kiley; he also designed the gardens at the Miller House. North Christian Church was the setting for Miller's memorial service when he died at age 95 in 2004.
In her book, Nancy notes that none of the five children of J. Irwin and Xenia Miller live in Columbus today, although their youngest son, Will Miller, continues to be involved with several local institutions that were important to his parents.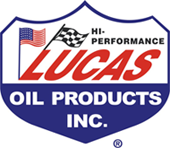 Roadtrip: All aboard for Beech Grove in southeastern Marion County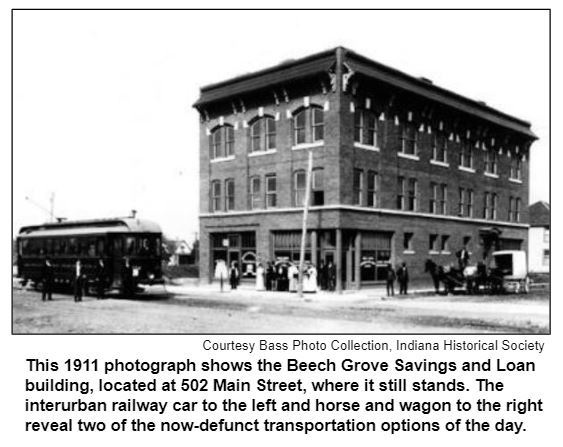 Guest Roadtripper Jim Glass, a historic preservation and heritage consultant, invites us to embark on a trip to Beech Grove, located just southeast of downtown Indianapolis.
Beech Grove was a planned community created by the giant New York Central Railroad System in 1906. Some 3000 workers moved to the town to obtain employment in a sprawling series of company shops constructed by the railroad at what is now Main Street and Emerson Avenue.
Jim tells us that originally, locomotives and passenger and freight cars from throughout the New York Central System were repaired and rebuilt in the massive brick and steel shop buildings. The railroad established a town that was a model for its time, with a wide Main Street lined with stores and civic structures, some 150 bungalows for the railroad workers, two churches, and a large public school.
Today, Beech Grove has been quite successful in maintaining its historic identity and sense of community. The old railroad shops are still in Beech Grove as repair facilities for Amtrak, and residents take pride in their hometown businesses and civic institutions.
Be sure to join Jim for this exciting adventure to a landmark in Indiana's railroad history.
History Mystery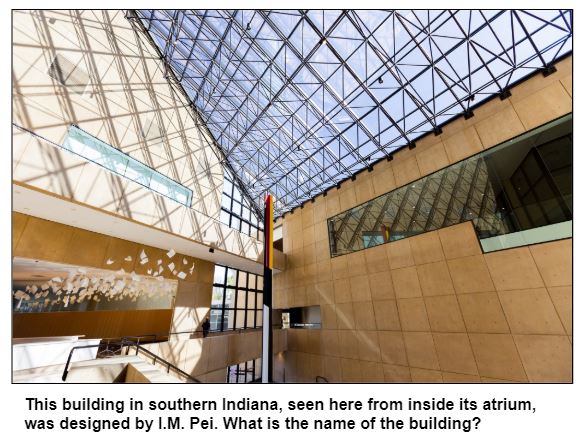 The famous Chinese-American architect I.M. Pei designed the library building in Columbus that's the flagship of the Bartholomew County Public Library system. Officially known as the Cleo Rogers Memorial Library, the building in downtown Columbus has an expansive brick plaza.
I.M. Pei, who died at age 102 in May 2019, also designed one other well-known building in southern Indiana. The building, which is not in Columbus, was completed in 1982. Its design involves two concrete triangles connected by a glass atrium. Hundreds of visitors enter the building every year.
Question: What is the building?
The call-in number is (317) 788-3314. Please do not call in to the show until you hear Nelson pose the question on the air, and please do not try to win the prize if you have won any other prize on WICR during the last two months. You must be willing to give your name and address to our engineer and be willing to be placed on the air.
The prizes this week are two admissions to the Indiana History Center, courtesy of the Indiana Historical Society, and two tickets to Indy's Teeny Statue of Liberty Museum, courtesy of Tim and Julie's Another Fine Mess.
Kind words from a devoted listener
Terri Gorney, a Hoosier History Live fan in Fort Wayne, had this to say recently:
"I love the podcasts! I work on Saturdays and cannot always hear the live broadcasts. And sometimes I also like to listen a second time."
Thank, Terri! It's listeners like you who make all the effort producing this show worthwhile!


Nelson Price, host and historian
Molly Head, producer/general manager, (317) 927-9101
Mick Armbruster, associate producer
Cheryl Lamb, administrative manager
Richard Sullivan, senior tech consultant
Pam Fraizer, graphic designer
Garry Chilluffo, consultant
Please tell our sponsors that you appreciate their support!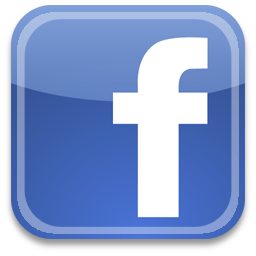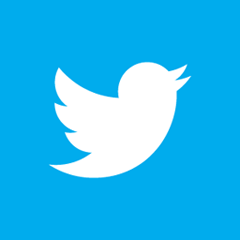 For organizational sponsorship, which includes logos, links, and voiced credits in the show and in podcasts, contact producer Molly Head at (317) 927-9101 or email her at molly@hoosierhistorylive.org. Our podcast listens are increasing at a rate of 17% a month!
Acknowledgments to Visit Indy, Fraizer Designs, WICR-FM, Henri Pensis, Aaron Duvall, Chloe Tyson, and many other individuals and organizations.
Thank you!
We'd like to thank the following recent, new and renewal contributors whose donations help make this show possible!
Jim and Nancy Johnson
Marion Wolen
Robin Winston
Peggy Hollingsworth
Kathleen Angelone
Jill Lough Chambers
Jinsie Bingham
Bruce and Julie Buchanan
Jane Simon Ammeson
Chuck and Karen Bragg
Theresa and Dave Berghoff
Dr. William McNiece
Ann Frick
Margaret Smith
Carl and Kathleen Widland
May 16, 2020 - coming up
Where did your county's name come from?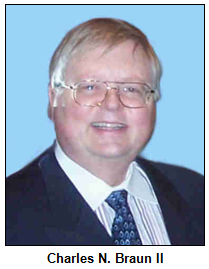 Two counties are named after Native American tribes. Many of Indiana's 92 counties have names that pay tribute to Revolutionary War heroes. And other county names salute famous Americans, including some who never set foot in the Hoosier state.
A few counties even are named after an aspect of their natural landscape. Lake County, with a northern border on the shores of Lake Michigan, is an obvious example.
For this show exploring the derivation of the names of Indiana's counties, Nelson will be joined by a WICR-FM colleague who has a passion for American history, including the origins of county names.
Charles Braun, the attorney who hosts Legally Speaking, the call-in legal advice show that airs at 11 a.m. on Saturdays, will be Nelson's guest. He's an admirer of French military hero Marquis de Lafayette (1757-1834) - and there's a direct connection involving our show's topic. Noting that Lafayette played a crucial role as an ally of the American colonists during the Revolutionary War, Charles points out that two counties have names that salute him.
Those two are Fayette County in eastern Indiana and LaGrange County, in the far-northeastern part of the state, which takes its name from Lafayette's French ancestral estate.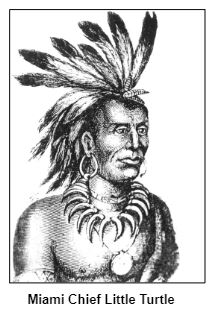 Also honoring Lafayette, of course, is the Hoosier city of that name, located in Tippecanoe County. The Tippecanoe River, for which the county is named, derives its name from a word in the language of the Miami people meaning "place of the buffalo fish." The Miami, in turn, are memorialized by Miami County just north of Kokomo.
LaGrange County isn't the only one with a name connected to foreign soil. Switzerland County on the Ohio River is named in honor of the country that was the homeland of many of its early settlers.
Knox County, which includes Vincennes, Indiana's oldest city, is among those named after a notable American with no Hoosier connections. According to Indiana Place Names (IU Press) by Ronald Baker and Marvin Carmony, the county's namesake is Henry Knox, an artillery officer during the Revolutionary War who became the country's first Secretary of War. In that capacity, he oversaw both the Army and the Navy. Knox is immortalized in dozens of place names around the country, including the famous Fort Knox in neighboring Kentucky.
Delaware County, which includes Muncie, is derived from the name given by white settlers to the Lenape, the Native American tribe that lived along the East Coast before being pushed in the 1790s to the wilderness that became Indiana. The Lenape were called the Delaware by white settlers who encountered them in the East. Hoosier History Live explored the Lenape heritage in Indiana during a show in 2014.
Described by some experts as "the most moved group in American history," the Lenape were pushed out of Indiana during the early 1820s in what's been called a "forced migration."
Our guest Charles Braun is immersed in Indiana history in ways other than his knowledge of county names' origins. At the Benjamin Harrison Presidential Site in Indianapolis, Charles is the official reenactor of the only president elected from the Hoosier state. Charles has been hosting "Legally Speaking" for 37 years, making it the country's longest-running legal advice show with call-in from listeners.

© 2020 Hoosier History Live. All rights reserved.