October 10, 2020
Historic photographers and their studios
Click here to listen to the podcast.
Nearly 200 years before the era of ubiquitous cell-phone "selfies" - and decades before the Brownie camera introduced snapshots to the mass consumer market - photographers were capturing images across Indiana.
Clear back in the 1820s, a teenager in New Harmony was experimenting with "solar picture drawings." In the early 1840s, a professor at Indiana University became Indiana's earliest documented photographer.
For this exploration of photographers and early photography studios beginning in the early 19th century, Nelson will be joined by photo historian Joan Hostetler, founder of the Indiana Album. The organization maintains the Indiana Photographers Project, a database that records biographical and studio information about photographers who have worked in the state from the early days of photography to the present.
The two longest-operating studios in Indiana, according to Joan, are the McDonald Studio of South Bend, which was founded in 1861, and the W.H. Bass Photo Co., which is based in Indianapolis and has roots dating to 1897. Both studios are still operating today.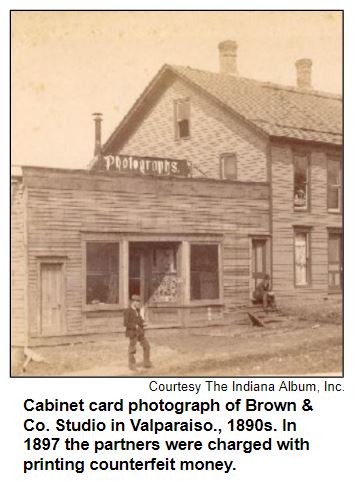 During our show, Joan will discuss itinerant photographers during the 1800s who traveled across the state in wagons, bringing along tents. Other itinerant photographers traveled aboard skylight boats on the Ohio River.
We also will explore the under-recognized role of women in photography. "Often wives and daughters [of photographers] were vital to the business," Joan says. "But they were not recognized, or given just a nod with a studio name such as 'Wright & Wife.' "
In 1828, New Harmony teenager James Miles Wattles experimented with what were then called "solar picture drawings." Joan notes this was a decade before photography was widely introduced.
According to Joan, Indiana's earliest documented photographer was Theophilus Wylie, an early daguerreotypist and half-cousin to Andrew Wylie, the first president of Indiana University. As an IU science professor, Theophilus Wylie (1810-1895) began making daguerreotypes in 1841. A daguerreotype is an early photographic process produced on silver-plated copper.
The Indiana Photographers Project database helps historians, genealogists and archivists with their accuracy and precision as they date historic photographs. The data also helps determine copyrights and recognize the accomplishments of Hoosier photographers.
Some photo facts:
The Indiana Album plans to publish a book or online directory about photographers who have worked in the state and their studios. The goal is to publish within the next few years.
Joan Hostetler, our guest, and Nelson, our host, co-authored Indianapolis Then and Now (Pavilion Books, revised edition 2015), a visual history book about the Hoosier capital.
One of the earliest known streetscape photos of Indianapolis (see below) was taken in about 1857. A copy of the historic photo is featured in The Encyclopedia of Indianapolis, Indianapolis Then and Now and other city history books.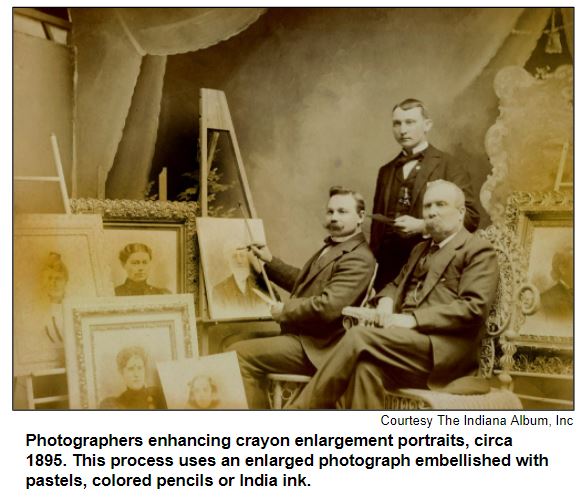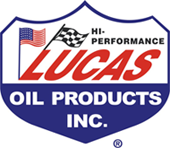 Roadtrip: Northeast Indiana Mural Fest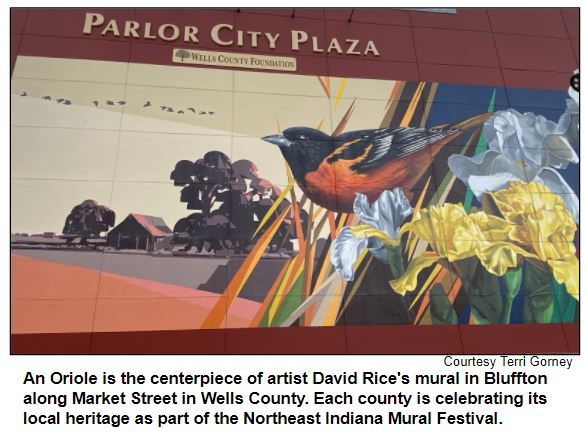 Guest Roadtripper Terri Gorney of Fort Wayne suggests we wander the eleven counties of Northeast Indiana to view the eleven murals created to celebrate the area's rich history, all part of the Northeast Indiana Mural Fest.
Terri tells us that the idea of holding a regional mural festival, the first of its kind in Indiana, builds on the efforts of the Regional Cities Initiative, which seeks to "make Indiana a magnet for talent attraction by funding transformative quality of place projects," according to their website.
Each mural in the festival depicts the rich history of its county. A few examples:
Sounds like a great way to hit the road, see some great art and enjoy the local history of Northeast Indiana! Lead the way, Terri!
History Mystery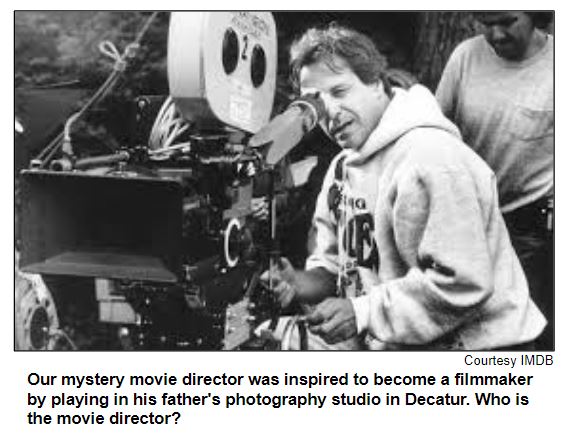 A portrait photographer who had a studio for more than 45 years in Decatur, the city in northeastern Indiana, became well-known in his profession. He served as president of the Professional Photographers of America, the profession's largest association in the country.

But his son, a movie director, became far more famous than his father. After growing up in Decatur and graduating from Indiana University, the son went on to direct movies that became international hits. In interviews with Nelson, our host, he described his father as his inspiration. The director explained that as a boy he enjoyed spending time in his father's photo studio, and would peek through cameras on tripods, pretending he was on location with movie cameras.

Question: Who is the Indiana-born movie director who was inspired by his photographer father?

Hint: The director often has collaborated with a screenwriter who is a Bloomington native.

The call-in number is (317) 788-3314. Please do not call in to the show until you hear Nelson pose the question on the air, and please do not try to win if you have won any other prize on WICR during the last two months. You must be willing to give your first name to our engineer, you must answer the question correctly on the air and you must be willing to give your mailing address to our engineer so we can mail the prize pack to you.

The prize this week is four daytime general admission tickets to Conner Prairie, plus four 1859 Balloon Voyage tickets, courtesy of Conner Prairie. Now open.
Look who's listening (and posting) now!
We're happy to see that the Union County Historian shared one of our podcasts on their Facebook page.
Located in eastern Indiana just south of Richmond, Union County was settled in the early 19th century Pioneer Era, which perhaps explains their choice of show to post: one titled A second serving of foods of the pioneers. In this show, host Nelson Price interviews food historian Sheryl Vanderstel about what early Hoosier settlers grew and how they ate it. To listen to the podcast of this show, click here. To listen to the "first serving" show on the same topic (also with guest Sheryl Vanderstel), click here.
We encourage all of our listeners to share links to podcasts of our show, and we especially love it when the podcasts get posted on social media. By increasing our listenership, posts on Facebook, Instagram, and the like help us become more attractive to sponsors, which is how we fund the cost of producing a high quality show like Hoosier History Live.
Nelson Price, host and historian
Molly Head, producer/general manager, (317) 927-9101
Mick Armbruster, associate producer
Cheryl Lamb, administrative manager
Richard Sullivan, senior tech consultant
Pam Fraizer, graphic designer
Garry Chilluffo, consultant
Please tell our sponsors that you appreciate their support!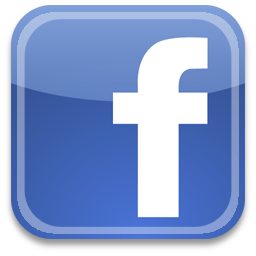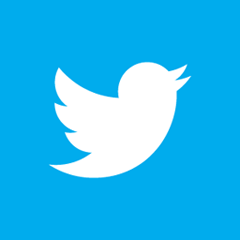 For organizational sponsorship, which includes logos, links, and voiced credits in the show and in podcasts, email molly@hoosierhistorylive.org, or call (317) 927-9101 for information. Our podcast listens are increasing and we are being distributed on Indiana Memory and the National Digital Public Library. Grow with us as our podcast and internet presence expands! Thanks also to Visit Indy, Fraizer Designs, WICR-FM, Henri Pensis, Aaron Duvall, Kielynn Tally, Heather McIntyre, Justin Clark, and many other individuals and organizations.
Thank you!
We'd like to thank the following recent, new and renewal contributors whose donations help make this show possible!
Dr. Geoffrey Golembiewski 
Jeanne Blake in memory of Lenny Rubenstein
Chuck and Karen Bragg
Kathleen Angelone
Wendy Boyle
Sharon Butsch Freeland
Bruce and Julie Buchanan
Dr. Robert and Jill Clements
Tom Spalding
Ryan Zumbahlen
David Yount
Linda Gugin and Jim St. Clair
October 17, 2020 - coming up
Haunting tales about historic places and people
The mysterious disappearance in 1913 of a 9-year-old girl in New Castle triggered a national search that continued for years. The possible abduction and murder of Catherine Winters - who vanished while walking on one of the town's busiest streets and never was found - became a haunting tale that continues to be told to this day.
Another eerie story - also rooted in history - is set at the Indiana Statehouse and involves an eccentric judge who was elected in the mid 1940s and served through the 1950s. Indiana Supreme Court Justice James Emmert, who kept a rifle in his office, was known to shoot noisy pigeons from his third-floor window. Ever since his death in 1974, security guards and Statehouse staffers occasionally have reported seeing a ghostly figure - clad in a judicial robe and toting a rifle - wandering the hallways.
And in Cambridge City, a historic town on the Old National Road (now US 40) in far-eastern Indiana, a spooky tale involves the former home of Gen. Sol Meredith, a Civil War hero who was the leader of the legendary Iron Brigade in the Union Army. A series of tragic deaths occurred in the historic home, resulting in folklore about a ghost sighting.
Historian and author Al Hunter, a columnist for the Weekly View newspaper based in the Irvington neighborhood of Indianapolis, will be Nelson's guest to share details about these and other haunting tales that involve historic people and places. Although Al is well-known for his popular ghost tour strolls through Irvington every October, we will explore a range of spooky sites across Indiana during our show. Our destinations include several cities and towns like Cambridge City that are on the Old National Road/U.S. 40; Al has been a board member of the Indiana National Road Association.
Among our stops on US 40: Terre Haute, where generations of residents are familiar with a creepy story involving Stiffy Green, a bulldog that was the beloved pet of a local man who died in 1920. After Stiffy's owner was interred in a family mausoleum at Highland Lawn Cemetery, the bulldog persisted in running away from home to sit near the crypt, so the story goes.

During our show, Al will describe events that unfolded when Stiffy died and, apparently after being taken to a taxidermist, was placed in his owner's mausoleum. Eventually Stiffy was moved to the Vigo County Historical Society, where he is one of the most popular exhibits today.

Our show will begin with a discussion of the Catherine Winters disappearance, which prompted searches involving hundreds of Hoosiers and inspired at least two songs about the missing girl, as well as the distribution of handbills in movie houses across the country in attempts to find her. Theories about her fate pointed to possible culprits ranging from a group of gypsies seen traveling through New Castle to her father and stepmother.

Al Hunter, who has been featured on the History Channel and the Discovery Channel, also has been a guest on several previous Hoosier History Live shows. They include shows that explored the notorious serial killer H.H. Holmes and his connections to Indianapolis and the Lincoln Funeral Train, which came through Indiana in 1865.

In addition, Al has written a new book, The Petersen House: The Oldroyd Museum and The House Where Lincoln Died (America Through Time). Although the historic house is in Washington D.C., it has a connection to Indiana. A book launch with Al is scheduled for Halloween Day (Oct. 31) from 2 pm-4 pm at the James Whitcomb Riley Boyhood Home & Museum in Greenfield.