October 24, 2020
Influenza epidemic of 1918-19: The second and third waves, recovery
Click here to listen to the podcast.
Halloween festivities in 1918 were canceled in Indianapolis and other Hoosier cities because of the devastating influenza epidemic.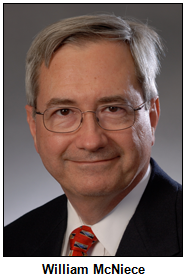 That's been noted during previous Hoosier History Live shows about the infamous epidemic - which is more accurately called a pandemic because the often fatal strain of influenza in 1918 and 1919 spread around the world.
Also during our previous shows on the topic - including a program that broadly explored Epidemics in Indiana history and an earlier show focused on the 1918 Influenza Epidemic in Indiana - medical historians discussed how the label "Spanish flu" mischaracterizes the 1918 health crisis. Our guests explained that contemporary experts point to sources other than Spain for the deadly influenza that caused havoc around the globe more than 100 years ago.
During our previous shows, we focused on the origins and the initial outbreaks in Indiana, leaving an unexpected and devastating "second wave" in 1918-19 mostly unexplored. So our distinguished medical historians, Dr. William McNiece and Bill Beck, will return for this show to share insights about additional aspects of the epidemic - which even included a "third wave" - as well as the eventual recovery.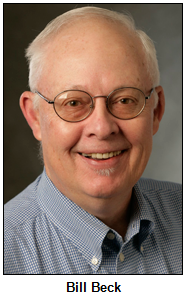 Dr. McNiece, president of the Marion County Historical Society, is an anesthesiologist at an Indianapolis hospital. Bill Beck, founder of Lakeside Writers' Group, is an author who has written dozens of institutional history books, including histories of Indiana hospitals.
According to Bill Beck's research, factors that are thought to have contributed to subsequent waves of the historic epidemic include, in November 1918, the gatherings of thousands of Hoosiers cheering the end of World War I on Armistice Day (now known as Veterans Day).
The second wave, which began in September 1918, was far more deadly in the United States than the initial wave that occurred earlier in the year. The third wave ensued from November 1918 and persisted through February 1919. Even in March 1919, 70 residents of Muncie died of influenza, Bill Beck notes.
Our guests credit Dr. Herman Morgan, Marion County's top public health official for more than 30 years beginning in 1911, with saving lives by taking steps initially regarded as controversial. They included periodic mask orders, lockdowns and closing schools.
Throughout much of 1918, influenza was especially virulent in Army training facilities, including Fort Harrison in Indianapolis. Because the soldiers were living together in barracks, the spread of the flu was quick. According to Bill Beck, Camp Sherman in central Ohio - where many Hoosiers drafted during World War I were trained - registered the most deaths from influenza of any Army facility.
According to information from Dr. McNiece, 21 emergency hospitals were established across Indiana during the 1918-1919 epidemic.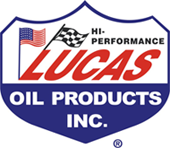 Roadtrip: Ball Nurses' Sunken Garden at Riley Hospital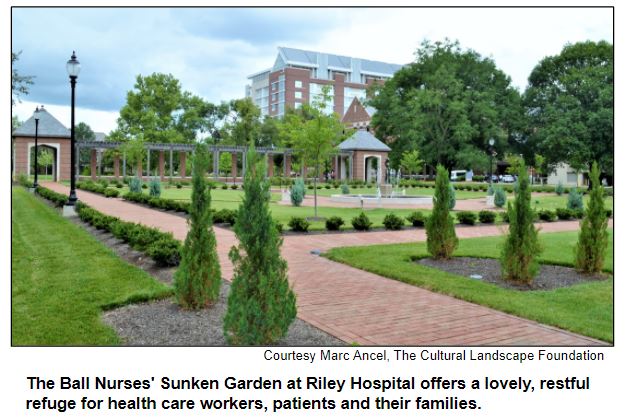 Guest Roadtripper Suzanne Rollins Stanis, Director of Heritage Education at Indiana Landmarks, suggests a visit to Ball Nurses' Sunken Garden at Riley Hospital, located on the western edge of the campus of Indiana University-Purdue University Indianapolis (IUPUI).

Suzanne tells us that the medical profession has long recognized the importance of fresh air and exercise in promoting good health - and that's exactly what this garden was designed for. Percival Gallagher, a partner in the prestigious Olmsted Brothers landscape architecture firm, planned the garden in 1929 and included such features as curvilinear walkways, a sunken garden and a stunning bronze sculpture and fountain, all meant to relieve stress among Riley Hospital employees, as well as offering therapeutic respite to patients and their families.


And although Gallagher probably didn't plan on it, the bronze fountain statue of Eve - nicknamed "Flo" in honor of Florence Nightingale - occasionally provides much needed humor for the Indiana University School of Nursing students, who dress the nude figure in clothing and uniforms.

To build awareness of the garden's significance, it was placed on the National Register of Historic Places in 1996. Dedicated nursing alumni, supporters, and IUPUI administration raised the funds to hire Rundell Ernstberger Associates to create a masterplan for the garden, restoring and refreshing its many components. At the 2016 public dedication, IUPUI's Chancellor Nasser Paydar noted that Ball Garden "stands as a symbol of the spirit and strength of the community."


If you're feeling the need for a little therapeutic respite yourself (and who isn't in these stressful times!), be sure to join Suzanne for this restorative Roadtrip.





Nelson Price, host and historian
Molly Head, producer/general manager, (317) 927-9101
Mick Armbruster, associate producer

Cheryl Lamb, administrative manager
Richard Sullivan, senior tech consultant
Pam Fraizer, graphic designer
Garry Chilluffo, consultant

Please tell our sponsors that you appreciate their support!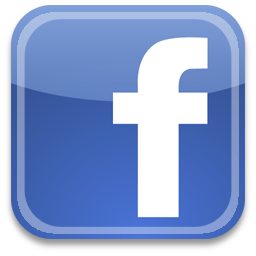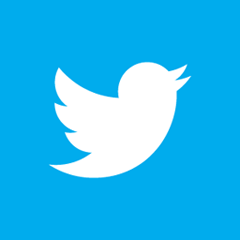 For organizational sponsorship, which includes logos, links, and voiced credits in the show and in podcasts, email molly@hoosierhistorylive.org, or call (317) 927-9101 for information. Our podcast listens are increasing and we are being distributed on Indiana Memory and the National Digital Public Library. Grow with us as our podcast and internet presence expands! Thanks also to Visit Indy, Fraizer Designs, WICR-FM, Henri Pensis, Aaron Duvall, Kielynn Tally, Heather McIntyre, Justin Clark, and many other individuals and organizations.
Thank you!
We'd like to thank the following recent, new and renewal contributors whose donations help make this show possible!
Dr. Geoffrey Golembiewski 
Jeanne Blake in memory of Lenny Rubenstein
Chuck and Karen Bragg
Kathleen Angelone
Wendy Boyle
Sharon Butsch Freeland
Bruce and Julie Buchanan
Dr. Robert and Jill Clements
Tom Spalding
Ryan Zumbahlen
David Yount
Linda Gugin and Jim St. Clair
October 31, 2020 - coming up
Musical instrument-making heritage in Indiana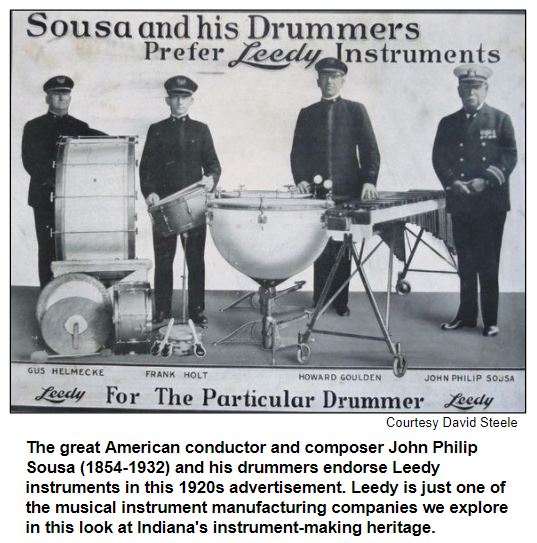 We Hoosiers are known to be self-effacing, so there hasn't been much inclination to toot our own horn about the state's heritage of musical instrument making.
Consider this, though: the largest maker of drums and percussion equipment in the world during the early 1900s was located in Indianapolis.
And for most of the 20th century, Elkhart was known as the "musical instrument capital" of the country. Elkhart-based companies in the music instrument business include C.G. Conn, Armstrong Flutes, Bach Brass, Selmer Woodwinds, Buescher Band Instruments, Gemeinhardt Flutes and others.
For nearly 30 years beginning in 1903, Leedy Manufacturing Company in Indianapolis produced drum and percussion instruments. By the time the company was sold to C.G. Conn and moved to Elkhart in 1930, Leedy had a line of more than 900 products and was known for many "firsts" in percussion design. The company held more than 20 patents, including one for the vibraphone, which now is used in jazz bands.
Two guests will share details about the rich heritage of musical instrument-making in the Hoosier state:
David Steele, an Indianapolis businessman and civic leader who owns The Steele Group, a management consulting business. A lifelong drummer, David is leading a crusade to have a historic marker placed on the former site of Leedy's factory on the near-southside of Indy.
And Jim Catalano of Elkhart, a professional musician who is the retired marketing director for Ludwig Drum Company, which has had multiple changes in its corporate ownership. He also is an adjunct instructor at the University of Notre Dame and St. Mary's College.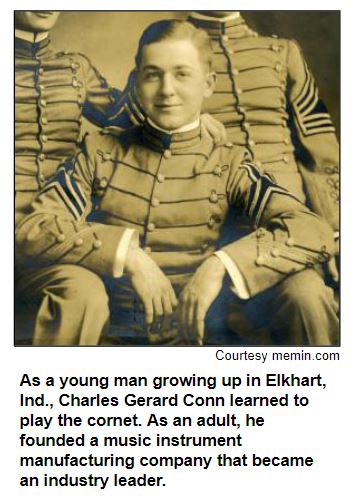 According to Jim, C.G. Conn has the most storied history of the Elkhart-based musical instrument businesses. Founded in 1876 by Charles Gerard Conn, who went on to win election as mayor of Elkhart and eventually as a U.S. congressman, the company became the largest maker of band instruments in the world.
Because of C.G. Conn's success, other band instrument companies relocated to Elkhart. They came "to take advantage of the training and expertise that workers in Elkhart had acquired," Jim notes.
The Selmer Company, which began in Elkhart in 1920, initially made only flutes and clarinets. But in 1965, Selmer bought Bach Brass, which had been based in Mount Vernon, N.Y. Today, according to Jim Catalano, it is the country's largest maker of professional trumpets and trombones.
The drum-making heritage in Indianapolis had its origins with Ulysses G. Leedy (1867-1931), who toured as a percussionist across the country in the 1890s.
He began making drum and percussion instruments in his apartment before starting his factory, according to David Steele. In 1921, Leedy Manufacturing created a distinctive, enormous bass drum for the Purdue University All-American Marching Band.