October 31, 2020
Musical instrument-making heritage in Indiana
Click here to listen to the podcast.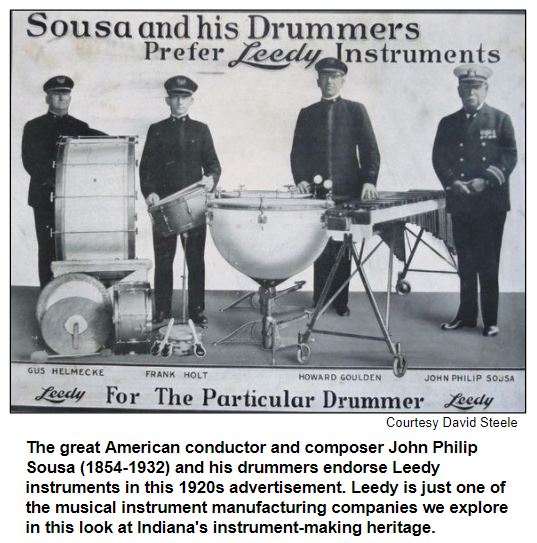 We Hoosiers are known to be self-effacing, so there hasn't been much inclination to toot our own horn about the state's heritage of musical instrument making.
Consider this, though: the largest maker of drums and percussion equipment in the world during the early 1900s was located in Indianapolis.
And for most of the 20th century, Elkhart was known as the "musical instrument capital" of the country. Elkhart-based companies in the music instrument business include C.G. Conn, Armstrong Flutes, Bach Brass, Selmer Woodwinds, Buescher Band Instruments, Gemeinhardt Flutes and others.
For nearly 30 years beginning in 1903, Leedy Manufacturing Company in Indianapolis produced drum and percussion instruments. By the time the company was sold to C.G. Conn and moved to Elkhart in 1930, Leedy had a line of more than 900 products and was known for many "firsts" in percussion design. The company held more than 20 patents, including one for the vibraphone, which now is used in jazz bands.
Two guests will share details about the rich heritage of musical instrument-making in the Hoosier state:
David Steele, an Indianapolis businessman and civic leader who owns The Steele Group, a management consulting business. A lifelong drummer, David is leading a crusade to have a historic marker placed on the former site of Leedy's factory on the near-southside of Indy.
And Jim Catalano of Elkhart, a professional musician who is the retired marketing director for Ludwig Drum Company, which has had multiple changes in its corporate ownership. He also is an adjunct instructor at the University of Notre Dame and St. Mary's College.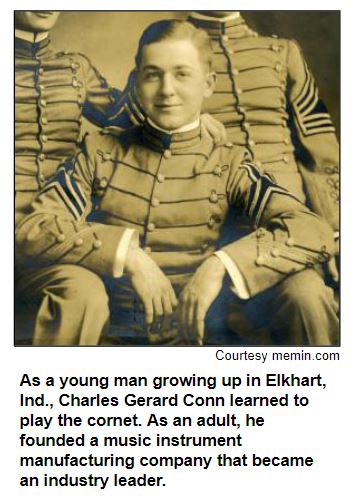 According to Jim, C.G. Conn has the most storied history of the Elkhart-based musical instrument businesses. Founded in 1876 by Charles Gerard Conn, who went on to win election as mayor of Elkhart and eventually as a U.S. congressman, the company became the largest maker of band instruments in the world.
Because of C.G. Conn's success, other band instrument companies relocated to Elkhart. They came "to take advantage of the training and expertise that workers in Elkhart had acquired," Jim notes.
The Selmer Company, which began in Elkhart in 1920, initially made only flutes and clarinets. But in 1965, Selmer bought Bach Brass, which had been based in Mount Vernon, N.Y. Today, according to Jim Catalano, it is the country's largest maker of professional trumpets and trombones.
The drum-making heritage in Indianapolis had its origins with Ulysses G. Leedy (1867-1931), who toured as a percussionist across the country in the 1890s. He began making drum and percussion instruments in his apartment before starting his factory, according to David Steele.
In 1921, Leedy Manufacturing created an enormous, distinctive bass drum for the Purdue University All-American Marching Band. The original drum - which, when finished, was displayed in the rotunda of the Indiana State Capitol before being transported to West Lafayette - is the eye-catching instrument still used today by Purdue's marching band
In addition to drums and vibraphones, Leedy made tympani, xylophones and other percussion instruments at its Indianapolis factory. The 80,000-square-foot building, which was touted as "The World's Largest Drum Factory" during the early 1900s, still stands at Palmer Street and Barth Avenue; today, it houses Sense Charter School.
In addition to acquiring Leedy and moving its operations to Elkhart, Conn indirectly launched Buescher Band Instruments; its founder made saxophones at Conn before starting his own company in 1894. By 1901, Buescher also was making cornets.
German immigrant Karl Gemeinhardt came to Elkhart in 1928 to make flutes for Selmer, according to Jim Catalano. In the late 1940s, Gemeinhardt left to establish a flute company under his own name to compete with Selmer, Conn and Armstrong. Today, the company makes flutes and piccolos for student musicians as well as professionals.
By the 1970s, about 40 percent of the world's band instruments were being made in Elkhart, according to the Indiana Historical Bureau. The annual Elkhart Jazz Festival was started more than 30 years ago in part as an outgrowth of the city's instrument-making heritage.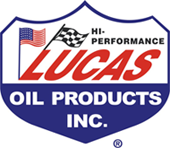 Roadtrip: The Pumpkinvine Trail between Goshen and Shipshewana
Just in time to celebrate Halloween, guest Roadtripper Chris Taelman of Granger in northern Indiana suggests a visit to the Pumpkinvine Trail, a "linear park" stretching between Goshen and Shipshewana, running along the route of the now defunct Pumpkin Vine Railroad.
Chris tells us that the history of the railroad goes back to 1888 and the era when railroads were a primary means of transporting people and goods. As railroad service declined in the second half of the 20th century, however, lines like the Pumpkin Vine Railroad were abandoned and left as weed-filled right-of-ways.
Like other towns and counties that have pursued rails-to-trails projects, community leaders in Elkhart County began to view the Pumpkinvine as a possible linear park. In 1978, the concept was added to the Elkhart County master plan and the dream began to take form.
Today, the Pumpkinvine Trail traverses 17 beautiful miles of rolling countryside in north central Indiana. Fall makes a great time for leaf viewing from the trail, or, if you can wait until June, you can sign up for the annual bike ride (assuming Covid-related cancellations no longer apply!)
Why restrict your pumpkin-related Halloween activities to those ubiquitous pumpkin-spice lattes and jack-o-lantern carving? Join Chris for this fun Roadtrip down the Pumpkinvine Trail!


History Mystery
During the 1890s and early 1900s, one of the country's largest piano-making companies was located in an Indiana city. The piano company built a massive, six-story factory as part of a business complex. In the 1920s, it was the largest employer in the mystery city.
Also during the 1920s, a division of the piano company began producing records and founded a studio. Some of the country's top and emerging jazz, blues, country and gospel musicians and composers came to the Hoosier city to make records at the studio.
During the Great Depression, the piano factory and its record division closed. Most of the piano-making factory complex eventually was demolished. But the city now has an annual festival and other endeavors that celebrate its music history.
Question: Which Indiana city was home to one of the largest piano-making companies in the country?
Hint: It is not Indianapolis or Elkhart.
The call-in number is (317) 788-3314. Please do not call in to the show until you hear Nelson pose the question on the air, and please do not try to win if you have won any other prize on WICR during the last two months. You must be willing to give your first name to our engineer, you must answer the question correctly on the air and you must be willing to give your mailing address to our engineer so we can mail the prize pack to you.
The prizes this week are two tickets to the Indiana State Museum, courtesy of the Indiana State Museum, and four tickets to Indy's Teeny Statue of Liberty Museum, courtesy of Tim and Julie's Another Fine Mess.

Nelson Price, host and historian
Molly Head, producer/general manager, (317) 927-9101
Mick Armbruster, associate producer
Cheryl Lamb, administrative manager
Richard Sullivan, senior tech consultant
Pam Fraizer, graphic designer
Garry Chilluffo, consultant
Please tell our sponsors that you appreciate their support!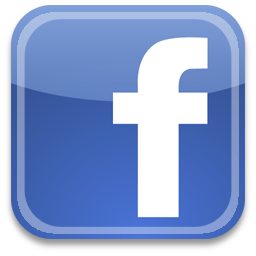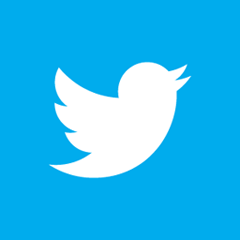 For organizational sponsorship, which includes logos, links, and voiced credits in the show and in podcasts, email molly@hoosierhistorylive.org, or call (317) 927-9101 for information. Our podcast listens are increasing and we are being distributed on Indiana Memory and the National Digital Public Library. Grow with us as our podcast and internet presence expands! Thanks also to Visit Indy, Fraizer Designs, WICR-FM, Henri Pensis, Aaron Duvall, Kielynn Tally, Heather McIntyre, Justin Clark, and many other individuals and organizations.
Thank you!
We'd like to thank the following recent, new and renewal contributors whose donations help make this show possible!
Doug Winings
Theresa and Dave Berghoff
Dr. Geoffrey Golembiewski 
Jeanne Blake in memory of Lenny Rubenstein
Chuck and Karen Bragg
Kathleen Angelone
Wendy Boyle
Sharon Butsch Freeland
Bruce and Julie Buchanan
Dr. Robert and Jill Clements
Tom Spalding
Ryan Zumbahlen
David Yount
Linda Gugin and Jim St. Clair
November 7, 2020 - coming up
The legacy of Ron Spencer and Theatre on the Square
The cultural and theatrical life of the Hoosier capital suffered two huge losses during the third week of September 2020. Within the space of three days, Indianapolis learned of the death of two of its most creative, boundary-pushing directors: Ron Spencer, founder and artistic director of Theatre on the Square (TOTS), and Bryan Fonseca, who co-founded the Phoenix Theatre.
We hope to cover Fonseca and his work in theatre on a future show, but for now we turn our attention to the life of Ron Spencer, who grew up in McCordsville but attended high school in Indianapolis.
Ron Spencer's long life on the stage began as a child and extended all the way into his final years in Puerto Vallarta, where he moved after retiring from Theatre on the Square in 2014. And while he was well known as a director of shows at TOTS, he also made his mark as an actor, singer, and playwright.
Among Ron's writing credits: Dearest, a Mommy Musical, based on the tell-all book written by Christina Crawford about her tumultuous relationship with mother, acress Joan Crawford.
The camp, over-the-top production of Dearest - directed by Ron for the Indianapolis Fringe Festival and a follow-up TOTS production - was emblematic of his love for Hollywood stars of a certain age and their camp-classic films.
Under his leadership, TOTS held a "film noir" series which re-imagined revered (if sometimes ironically) cinematic gems like Mildred Pierce (1945) and Whatever Happened to Baby Jane (1962) as tongue-in-cheek stage plays, with Ron reenacting the roles originated by Bette Davis and other iconic female stars of the era.
It would be a mistake, however, to consider only the amusing and camp aspects of Ron's theatrical work. As the artistic director of Theatre on the Square, he spearheaded the production of such important plays as Corpus Christi by Terrence McNally, which raised questions about spirituality and sexuality by portraying Christ and his apostles as gay men living in modern-day Texas.
And it was no accident that many TOTS shows featured the perspective of members of marginalized communities. As a gay man who came of age in the late 1950s and early 1960s, Ron knew what it meant to be treated as an outsider and understood the power of theatre to offer hope and change hearts.
In a memorable TOTS production of a musical featuring the work of composer George Winters, Ron sang the song "It Gets Better," a plea to LGBT youth being bullied by peers to look beyond the torment and see the rich, rewarding life that awaits them as adults.
The discussion of Ron Spencer's life will be led by Hoosier History Live associate producer Mick Armbruster, filling in for our regular host, Nelson Price. Mick will be joined by phone by two guests who knew and worked with Ron Spencer over the course of many years:
Jeannie Logan, who worked with Ron on numerous musicals at Theatre on the Square and other local venues. For decades, Jeannie has performed as a vocalist all over the country and parts of the world. She currently works as a private vocal coach and also teaches at the Ji-Eun Lee Music Academy in Fishers.
and Michael Swinford, a professional actor, director, and playwright. He is also the founding artistic director of Be Out Loud Theatre, Indiana's only LGBTQ+ theatre company.
Mick, Jeannie and Michael will discuss Ron's early work in theatre, as well as his founding of Theatre on the Square in 1988 at its original location in Fountain Square. TOTS moved to Mass Avenue in 1993 to be part of the burgeoning arts district there. They'll explore the impact TOTS had on the cultural life of Indianapolis, as well as consider the factors that led to its demise in 2018.

Mick plans to open the WICR phone lines early in hope that some of Ron's many friends and theatrical associates will call in at (317) 788-3314 with their stories and memories.