November 14, 2020
Wilbur Wright's Indiana connections, other aviation pioneers
Click here to listen to the podcast.
The Wright Brothers are so identified with Dayton, Ohio, where they lived for most of their adult lives, that even aviation buffs often are surprised to learn that one of the legendary siblings was a native Hoosier.
Not only was Wilbur, the eldest brother, born in the small town of Millville in eastern Indiana in 1867, other Indiana connections occurred as the family moved several times in both Indiana and Ohio during their youth. Wilbur Wright even attended high school for a few years in Richmond.
Those connections explain why Wilbur Wright is among the historic and contemporary aviation trail-blazers with links to the Hoosier state who have been inducted into a newly launched hall of fame, the Indiana Aviation Hall of Fame.
During our show, we will explore the lives as well as the national - and, in some cases, international - impact of several of these pioneers. They will include flamboyant aviation promoter and record-breaking racing pilot Roscoe Turner (1895-1970) of Indianapolis and entrepreneur James Allison, who usually is associated with his impact on early auto heritage and his partnership with Carl Fisher and others as founders of the Indianapolis Motor Speedway.
Allison (1872-1928) also had a significant impact on aviation beginning at the onset of World War I, when a company he formed built the first two Liberty V-12 aircraft motors. His plant's engineers developed early pistons, gear boxes and other components that became widely used throughout the aviation industry.
Others in our spotlight will include retired astronaut and Gary, Ind., native Frank Borman, now 92, who also was a colonel in the U.S. Air Force, an aeronautical engineer and a test pilot. We won't be exploring several other notables with Indiana connections, including astronaut Virgil "Gus" Grissom; World War I aviation hero Weir Cook and Amelia Earhart, who developed a deep bond with Purdue University, because they have been the focus of previous Hoosier History Live shows.
For this show, Nelson's guests will be two board members of the Indiana Aviation Hall of Fame who are licensed pilots:
David Newill of Zionsville, past president of the Allison branch of the Rolls-Royce Heritage Trust. David, who oversaw the team that collected and restored artifacts on public display about the Indianapolis legacy of Rolls-Royce (and its predecessor, Allison, which operated under various names), is a popular speaker about aerospace history.
And Bruce Montigney of Fishers, a former Federal Aviation Administration safety inspector who retired as the agency's manager of the Indianapolis district office for flight standards. During a 28-year career with the FAA, Bruce held numerous positions and is a certified flight instructor.
Earlier this year, David, Bruce and other aviation history enthusiasts launched the hall of fame, which currently exists as an online, website-based resource while organizers search for a physical site.
Some museums devoted to individual aviation pioneers have been open for several years. They include the Wilbur Wright Memorial Birthplace near Millville, which honors the achievements of the trail-blazing brother who died in 1912. (His younger brother Orville, who was born in Dayton in 1871, died in 1948.)

A museum in northern Indiana honors the achievements of aircraft industry executive Lawrence Bell, founder of Bell Aircraft Corp., which built jet-powered fighter aircraft for the U.S. military during World War II. The Bell Aircraft Museum is located in the town of Mentone in northern Indiana, where Lawrence Bell was born in 1894. Bell and his company made international headlines in 1947 when pilot Chuck Yeager became the first man to break the sound barrier while flying a Bell aircraft. Lawrence Bell died in 1956.

Frank Borman, the astronaut from Gary, also made international headlines. In 1968, he commanded Apollo 8, a space mission in which Borman and two fellow astronauts became the first human beings to leave the Earth's gravity and orbit the moon.

In addition to exploring the lives and impact of Borman, Bell, Wilbur Wright and other aviation pioneers, our show will spotlight Noblesville native William "Pete" Knight (1929-2004), an astronaut, aeronautical engineer, Vietnam War combat pilot and test pilot. Among a trove of honors, Knight was awarded the Distinguished Flying Cross.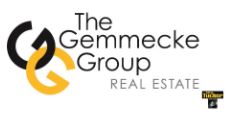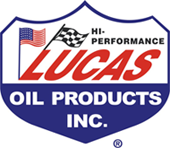 Roadtrip: Gene Stratton-Porter reports on her home in Rome City
In a time-traveling Roadtrip that carries us back a century, this week we hear from Gene Stratton-Porter (as portrayed by public historian Glory-June Greiff). The author and environmentalist, best known for her novel A Girl of the Limberlost (1909), invites us to join her on a visit to her house near Rome City, located between Elkhart and Fort Wayne in north-eastern Indiana.
When her beloved Limberlost Swamp near Geneva, Ind., began to disappear in the 1910s, Stratton-Porter (1863-1924) looked for another location in which to live and work. She turned to the shores of Sylvan Lake at Rome City, where on a bluff on the lake's south shore she designed the 14-room rustic house with ample space for a library, a darkroom, and workroom.
Completed in 1914, the "cabin" has exterior walls built of white cedar logs from Wisconsin. A large open porch walled with a variety of rocks overlooks the lake; above it is an enclosed sleeping porch. Inside, the entrance foyer and the dining room are paneled with locally harvested wild cherry.
Today the house and its 148 acres, which the author called Limberlost North and sometimes The Cabin in Wildflower Woods, constitute the Gene Stratton-Porter State Historic Site.
Don't miss this opportunity to hear all about it from the woman who created it!


History Mystery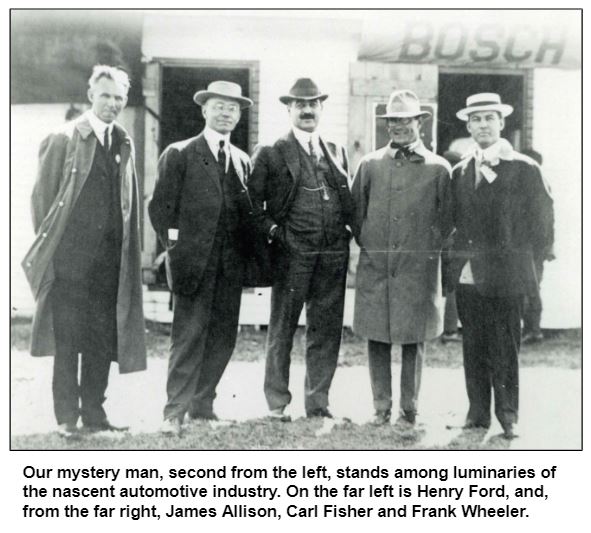 Indianapolis entrepreneur James Allison is known for his multifaceted contributions to automobile history. With another entrepreneur, Carl Fisher, he started Prest-O-Lite Storage Battery Company, which perfected a system to light automobile headlamps.
Also with Carl Fisher, James Allison founded the Indianapolis Motor Speedway. Two other entrepreneurs were their partners in the founding of the world famous racetrack. One of the other partners was Frank Wheeler, a manufacturer of carburetors. The fourth partner was a pioneer in the bicycle industry.
Question: Who was the fourth partner in the founding of the Speedway?
The call-in number is (317) 788-3314. Please do not call in to the show until you hear Nelson pose the question on the air, and please do not try to win if you have won any other prize on WICR during the last two months. You must be willing to give your first name to our engineer, you must answer the question correctly on the air and you must be willing to give your mailing address to our engineer so we can mail the prize pack to you.
The prizes this week are two tickets to the Indiana Medical History Museum, courtesy of the Indiana Medical History Museum, and two tickets to the Seiberling Mansion and a gift certificate to Windmill Grill, all in Kokomo, courtesy of Howard County Historical Society and Peggy Hollingsworth. Please check all museum websites for hours.

Nelson Price, host and historian
Molly Head, producer/general manager, (317) 927-9101
Mick Armbruster, associate producer
Cheryl Lamb, administrative manager
Richard Sullivan, senior tech consultant
Pam Fraizer, graphic designer
Garry Chilluffo, consultant
Please tell our sponsors that you appreciate their support!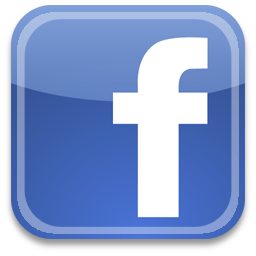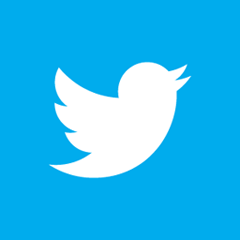 For organizational sponsorship, which includes logos, links, and voiced credits in the show and in podcasts, email molly@hoosierhistorylive.org, or call (317) 927-9101 for information. Our podcast listens are increasing and we are being distributed on Indiana Memory and the National Digital Public Library. Grow with us as our podcast and internet presence expands! Thanks also to Visit Indy, Fraizer Designs, WICR-FM, Henri Pensis, Aaron Duvall, Kielynn Tally, Heather McIntyre, Justin Clark, and many other individuals and organizations.
Thank you!
We'd like to thank the following recent, new and renewal contributors whose donations help make this show possible!
Ann Frick 
Margaret Smith 
Rachel Perry
Tom and Linda Castaldi
Serita Borgeas
Tom Swenson
Doug Winings
Theresa and Dave Berghoff
Dr. Geoffrey Golembiewski 
Jeanne Blake in memory of Lenny Rubenstein
Chuck and Karen Bragg
Kathleen Angelone
Wendy Boyle
Sharon Butsch Freeland
Bruce and Julie Buchanan
Dr. Robert and Jill Clements
November 21, 2020 - coming up
Historic crimes: cases involving the electric chair, "Gun Girl," a mayor and more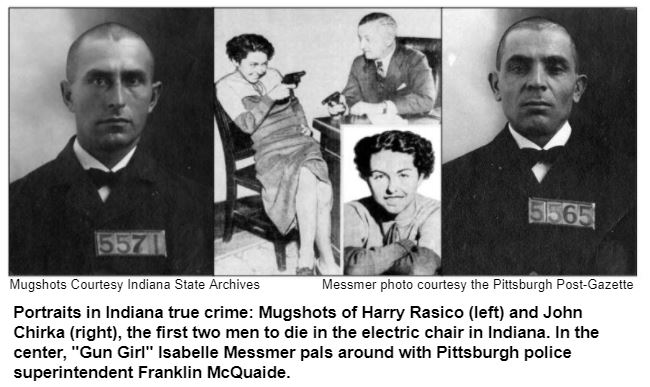 Small cities and towns in Indiana often seem tranquil, but they periodically have been the settings for murders that made national headlines. They have also been the birthplaces of suspected killers, including a notorious native of Elwood dubbed "Gun Girl" by the national press during the Great Depression.
For one of our periodic shows exploring true crimes, Hoosier History Live will delve into several sensational murder cases that drew national attention to the state between 1869 and 1950. Among the cases will be some that illuminate aspects of social history, including the use of capital punishment, the insanity defense (which frequently was used by defense attorneys during the 19th century), and attitudes about women on trial for first-degree murder.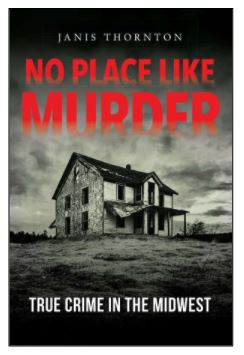 The historic crimes are among those included in No Place Like Murder (I.U. Press), a new book by Janis Thornton, an author of true crime and town history books who is based in Tipton, Ind. Janis, who has researched the murders and even visited the gravesites of several of the victims, will be Nelson's guest to explore cases involving:
The first two men to die in the electric chair in Indiana. On the same day in 1914, John Chirka and Harry Rasico were executed in Michigan City at the Indiana State Prison. Although their crimes were unrelated, both men were convicted of murdering their wives - and, in Rasico's case, his toddler son as well. The murders were committed in 1913, the same year the state legislature voted to have the electric chair replace hanging at the state prison. No Place Like Murder describes how Indiana's governor, Samuel Ralston, opposed the death penalty personally but did not interfere with the executions.
The 15-year-old "Gun Girl," who in 1930 dropped out of school in Elwood to go looking for adventure. Armed with pistols, Isabelle Messmer became implicated in crimes from Pennsylvania to Texas, where the pitcher for a semi-pro baseball team was found shot to death in a tourist cabin.
The first woman to be tried for murder in Clinton County. In 1898, Frankfort resident Sarah Shenkenberger was accused of poisoning her daughter-in-law, Belle Shenkenberger, who (along with her 2-year-old son) had been living with her in-laws while her husband was serving in the Navy.
Most of the murderers and their victims in the cases we will explore were private citizens. An exception involves a sensational killing in 1881 when the controversial mayor of Kokomo was fatally shot during what may have been a bungled burglary.

Mayor Henry Cole was gunned down in a flour mill by a posse of Kokomo business and public officials. In No Place Like Murder, Janis Thornton poses the question of whether Cole was involved in a crime or was "the victim of an assassination conspiracy." In response to the mystery, she adds, "Local history buffs are still scratching their heads."

In connection with one of her visual history books about Indiana towns and counties, Images of America: Tipton County (Arcadia Publishing, 2012), Janis has been a previous Hoosier History Live guest. She also is the author of Too Good a Girl (Life Sentences Publishing, 2018), which explores the mysterious death of her Tipton high school classmate.