November 21, 2020
Historic crimes: cases involving the electric chair, "Gun Girl," a mayor and more
Click here to listen to the podcast.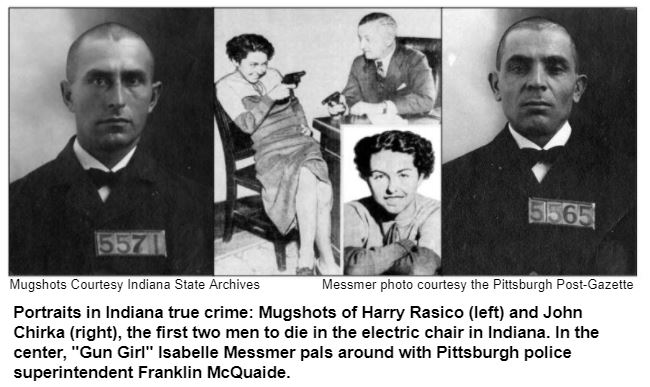 Small cities and towns in Indiana often seem tranquil, but they periodically have been the settings for murders that made national headlines. They have also been the birthplaces of suspected killers, including a notorious native of Elwood dubbed "Gun Girl" by the national press during the Great Depression.
For one of our periodic shows exploring true crimes, Hoosier History Live will delve into several sensational murder cases that drew national attention to the state between 1869 and 1950. Among the cases will be some that illuminate aspects of social history, including the use of capital punishment, the insanity defense (which frequently was used by defense attorneys during the 19th century), and attitudes about women on trial for first-degree murder.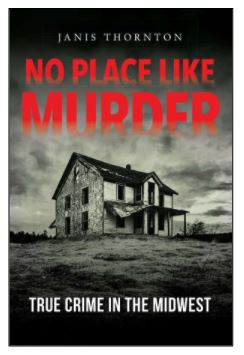 The historic crimes are among those included in No Place Like Murder (I.U. Press), a new book by Janis Thornton, an author of true crime and town history books who is based in Tipton, Ind. Janis, who has researched the murders and even visited the gravesites of several of the victims, will be Nelson's guest to explore cases involving:
The first two men to die in the electric chair in Indiana. On the same day in 1914, John Chirka and Harry Rasico were executed in Michigan City at the Indiana State Prison. Although their crimes were unrelated, both men were convicted of murdering their wives - and, in Rasico's case, his toddler son as well. The murders were committed in 1913, the same year the state legislature voted to have the electric chair replace hanging at the state prison. No Place Like Murder describes how Indiana's governor, Samuel Ralston, opposed the death penalty personally but did not interfere with the executions.
The 15-year-old "Gun Girl," who in 1930 dropped out of school in Elwood to go looking for adventure. Armed with pistols, Isabelle Messmer became implicated in crimes from Pennsylvania to Texas, where the pitcher for a semi-pro baseball team was found shot to death in a tourist cabin.
The first woman to be tried for murder in Clinton County. In 1898, Frankfort resident Sarah Shenkenberger was accused of poisoning her daughter-in-law, Belle Shenkenberger, who (along with her 2-year-old son) had been living with her in-laws while her husband was serving in the Navy.
Most of the murderers and their victims in the cases we will explore were private citizens. An exception involves a sensational killing in 1881 when the controversial mayor of Kokomo was fatally shot during what may have been a bungled burglary.

Mayor Henry Cole was gunned down in a flour mill by a posse of Kokomo business and public officials. In No Place Like Murder, Janis Thornton poses the question of whether Cole was involved in a crime or was "the victim of an assassination conspiracy." In response to the mystery, she adds, "Local history buffs are still scratching their heads."

In connection with one of her visual history books about Indiana towns and counties, Images of America: Tipton County (Arcadia Publishing, 2012), Janis has been a previous Hoosier History Live guest. She also is the author of Too Good a Girl (Life Sentences Publishing, 2018), which explores the mysterious death of her Tipton high school classmate.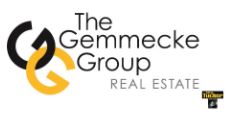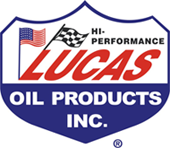 Roadtrip: Jeffersonville on the Ohio River
Guest Roadtripper Jeannie Regan-Dinius of the Indiana Department of Natural Resources, Division of Historic Preservation, suggests a Roadtrip to Jeffersonville, located in Clark County in southern Indiana, just across the Ohio River from Louisville, Kentucky.
Often called "Jeff" by locals, the town was named after Thomas Jefferson in 1801, the year he took office as president. The town's importance grew during the Civil War, when its location on the Ohio River gave it strategic importance.
Jeannie tells us that the town's revitalization has been picking up steam, just like the steamboats that used to ply the waters of the Ohio River. The town now features lots of fascinating things for visitors to see and do, including a selection of restaurants that line the riverfront and main street.
Once you've filled up on the food, Jeannie suggests that you walk the river bank and see historical markers explaining the town's importance as a stop on the Underground Railroad.
If you're feeling adventurous, you can then cross the Big Four Bridge over to Louisville. This former railroad bridge, built in 1895, has been restored and repurposed as a pedestrian bridge to allow Hoosiers the chance to cross the Ohio River by foot.
Other local sites worth visiting include the Howard Steamboat Museum, Vintage Fire Museum, and Falls of the Ohio State Park.
Check the websites linked above for current information on hours and possible Covid-related closures.
History Mystery
During the late 1960s through the mid-1970s, the chief of the Indianapolis Police Department had the same name as a famous world leader of the World War II era.

The police chief oversaw the law enforcement agency - now called the Indianapolis Metropolitan Police Department - during a turbulent era. In 1974, a Pulitzer Prize-winnings series in the Indianapolis Star described corruption in the department. Mayor Richard Lugar asked the police chief to resign.

Question: Who was the Indianapolis Police Department chief who shared a name with a famous world leader?

Hint: His namesake, who became internationally known during World War II, was not an American.

The call-in number is (317) 788-3314. Please do not call in to the show until you hear Nelson pose the question on the air, and please do not try to win if you have won any other prize on WICR during the last two months.

You must be willing to give your first name to our engineer, you must answer the question correctly on the air and you must be willing to give your mailing address to our engineer so we can mail the prize pack to you.

The prize this week is a complimentary one year membership to Indiana Landmarks, courtesy of Indiana Landmarks.




Nelson Price, host and historian
Molly Head, producer/general manager, (317) 927-9101
Mick Armbruster, associate producer

Cheryl Lamb, administrative manager
Richard Sullivan, senior tech consultant
Pam Fraizer, graphic designer
Garry Chilluffo, consultant

Please tell our sponsors that you appreciate their support!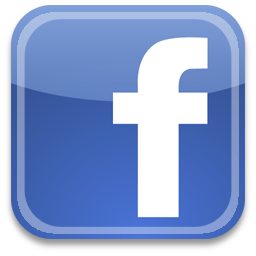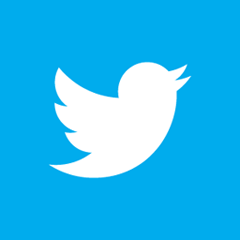 For organizational sponsorship, which includes logos, links, and voiced credits in the show and in podcasts, email molly@hoosierhistorylive.org, or call (317) 927-9101 for information. Our podcast listens are increasing and we are being distributed on Indiana Memory and the National Digital Public Library. Grow with us as our podcast and internet presence expands! Thanks also to Visit Indy, Fraizer Designs, WICR-FM, Henri Pensis, Aaron Duvall, Kielynn Tally, Heather McIntyre, Justin Clark, and many other individuals and organizations.
Thank you!
We'd like to thank the following recent, new and renewal contributors whose donations help make this show possible!
Stacia Gorge
Ann Frick 
Margaret Smith 
Rachel Perry
Tom and Linda Castaldi
Serita Borgeas
Tom Swenson
Doug Winings
Theresa and Dave Berghoff
Dr. Geoffrey Golembiewski 
Jeanne Blake in memory of Lenny Rubenstein
Chuck and Karen Bragg
Kathleen Angelone
Wendy Boyle
Sharon Butsch Freeland
Bruce and Julie Buchanan
Dr. Robert and Jill Clements
November 28, 2020 - coming up
Have you heard of The Hoosier Hot Shots? encore
With percussion instruments that included a makeshift washboard and a stage routine punctuated by comic banter between their musical numbers, they were nationally known entertainers from the 1920s through the mid-1940s.
The Hoosier Hot Shots were regulars on National Barn Dance, one of the most popular radio shows in the country, broadcast on WLS-AM in Chicago. They were featured as a novelty act in Western movies starring Gene Autry and slapstick comedies with the Three Stooges. They were headliners in vaudeville venues and recorded much of their music at Gennett Studios in Richmond, Ind., which launched the recording careers of many American jazz, blues, country and gospel stars during the era.
The three primary members of the Hot Shots band were Otto "Gabe" Ward, who was born in Knightstown and grew up in Elwood, and two brothers, Ken and Paul "Hezzie" Trietsch, who hailed from the small town of Arcadia in Hamilton County. The Indiana State Museum periodically has exhibited Gabe Ward's clarinet and Hezzie's unusual washboard instrument, which he made by hand; the exhibits also have included vintage posters for some of their 21 movies.
In this encore broadcast of a show from 2018, we turn our spotlight on the colorful and quirky Hoosier Hot Shots. Nelson is joined in studio by Todd Gould, a senior producer/director at WTIU-TV in Bloomington and a broadcasting instructor at Indiana University. In working with his WTIU colleagues on a documentary about Gennett, where emerging stars like Hoagy Carmichael, Louis Armstrong and Jelly Roll Morton recorded, Todd researched the Hot Shots. (Hoosier History Live explored the impact of the recording history made at Gennett Studios on a show in 2013.)
In an article about the Hoosier Hot Shots in the Fall 2018 issue of Traces, the Indiana Historical Society's magazine, Todd wrote:
"During two of the most tumultuous times in our nation's history, the Great Depression and World War II, Americans found comfort in the silly songs and crazy antics of a band from the flatlands of central Indiana ... Their sound and lyrics were unlike anything Americans in the early 20th century had ever heard before."
A sample lyric from a Hot Shots song:
From the Indies to the Andes in his undies
And he never took a shave except on Mondays
He didn't eat a thing but chocolate sundaes
'Twas a very, very daring thing to do.
In addition to Todd Gould, Nelson is joined in studio by Hamilton County historian David Heighway, who has researched the deep roots of the Trietsch family in the county. Ken Trietsch (rhymes with "beach") played the guitar and banjo while Hezzie played the washboard - as well as cowbells, horns, pie tins and, as Todd put it in his Traces article, "other assorted gear that looked more at home in a farmhouse kitchen than on a stage."
Periodically during our show, we feature brief excerpts of the Hoosier Hot Shots' recordings to give listeners a flavor of their distinctive routines.
Their signature line was a question - "Are you ready, Hezzie?" - posed by Ken Trietsch to his jokester brother just as the Hot Shots were about to kick off a routine.
Ken (1903-1987) and Hezzie (1905-1980) Trietsch came from a musical family in Hamilton County of five sons, all of whom played multiple instruments.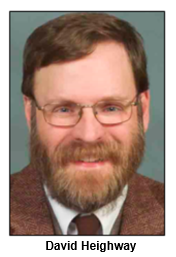 They met Gabe Ward (1904-1992) in the 1920s when all of them became members of the Rube Band, a vaudeville troupe known for playing "wildly extemporaneous, comical versions of the day's popular songs," according to Todd's article in Traces. After the Rube Band dissolved, the three Hoosiers eventually started performing on radio with the Hot Shots name.
Major success followed on National Barn Dance, which also launched the careers of Gene Autry, Patti Page and other entertainers. By the mid-1930s, the Hoosier Hot Shots had added a fourth member, Illinois native Frank Kettering, who played the bass fiddle, organ, piccolo and other instruments.
Among the quartet's most popular songs was Whistlin' Joe from Kokomo. According to Todd's article, the song was one of several Hot Shots' tunes featuring the names of Indiana towns.
During World War II, the Hoosier Hot Shots joined USO tours of North Africa and Italy. (Kettering, though, was drafted. He was replaced by a series of musicians who also weren't from Indiana.) The band's popularity waned by the early 1960s.
Click on the links below to listen to samples of songs from the Hoosier Hot Shots catalogue: