March 20, 2021
Weir Cook and Paul Baer, WWI aviators and former airport namesakes: encore
Click here to listen to the podcast.
Both were pioneer aviators and heroic World War I fighter pilots from Indiana, and both were killed while flying aircraft overseas.
And Weir Cook and Paul Baer once were the namesakes of the airports in the two largest cities in their home state. Today, although those airports are officially called Indianapolis International Airport and Fort Wayne International Airport, the terminal buildings at each still carry the name of these two great airmen.
To explore the lives of the aviators who earned national acclaim for their valor during what once was known as the Great War, Nelson is joined by two guests in this encore of a show originally broadcast in 2018. The guests are:
William Bell, an Indianapolis-based writer and retired law enforcement officer who has researched Hancock County native Weir Cook (1892-1943), recipient of the Distinguished Service Cross in World War I. Cook also was hailed as a hero during World War II even though he was well into his 40s when he returned to the Army Air Corp and flew combat missions over the Pacific.
And Tony Garel-Frantzen of Fort Myers, Fla., the author of Hoosier Aviator Paul Baer: America's First Combat Ace (The History Press, 2017). In his biography of Baer (1894-1930), Tony contends the Fort Wayne native became the first American to shoot down an enemy plane in combat and the first to earn the title of "combat ace." Tony writes that Baer's historic achievements often have been overlooked because he flew for a French squadron prior to the United States' entry into World War I.
The designation of "combat ace," which both Cook and Baer achieved, is given to pilots who accomplish five aerial victories during warfare.
After World War I, Cook helped develop the first municipal airport in Indianapolis, which opened in 1931; he also became its first manager. Following Cook's reenlistment during World War II, he commanded air bases on islands in the Pacific.
After Cook was killed while flying a combat mission, the Indianapolis airport at Indianapolis was named Weir Cook Airport. In 1976, its name was changed to Indianapolis International Airport, outraging many veterans groups.
When the city's newly constructed airport opened at its current site in 2008, the mid-field terminal and the roadway leading to it were named in Cook's honor.
In Fort Wayne, Baer had grown up as a shy but adventure-seeking youth, according to Hoosier Aviator. After France declared war on Germany in 1914, Baer was among a few American volunteers who signed up to fight on the side of the French; America did not declare war until 1917. As a combat pilot, Baer flew missions for both France and the United States.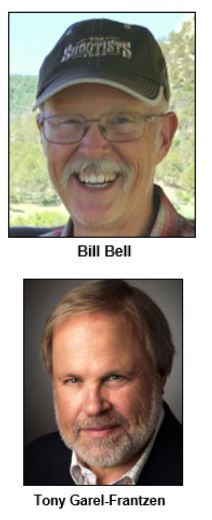 While working as a commercial pilot for a Chinese airline in 1930, Baer was killed in an aircraft accident near Shanghai. In his honor, the Fort Wayne airport was called Baer Field until the early 1990s, when it was renamed Fort Wayne International Airport.
Like Baer, Weir Cook received his initial flight training in France. He was born Harvey Weir Cook in the small Hancock County town of Wilkinson, where a community park has been named in his honor. Cook grew up in Anderson, graduated from Anderson High School and attended both DePauw University and Washington & Jefferson College before moving to France at the outbreak of World War I.
During the war, Cook downed at least seven enemy aircraft and was promoted to flight commander of the 94th Aero Squadron, a pursuit (fighter) unit of the U.S. Army Air Service. After the war, Cook undertook many roles in the civilian aviation industry and helped bring the first municipal airport to Indianapolis. He was killed during World War II in a crash while flying a P-39 Bell Airacobra fighter plane over the Pacific island of New Caledonia.
During World War I, Baer achieved his first aerial victory in March 1918, shooting down a German fighter plane while flying for a French squadron. That victory - which was quickly followed by others - made Baer the first U.S. pilot to shoot down an enemy plane in warfare, according to Tony Garel-Frantzen's biography.
By mid-April 1918, Baer had felled five enemy planes, making him the first American combat ace, Tony writes.
In May 1918, Baer's plane was shot down. Although he escaped serious injuries, Baer became a prisoner of war and spent time in several German prisons.
"True to his reticent nature," Tony writes, "Baer rarely spoke in detail while he was alive about the day he was shot down or about the months he spent in captivity."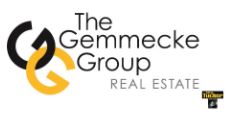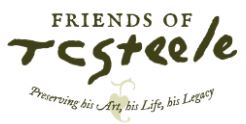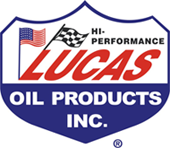 Roadtrip: Circle Tower on Indianapolis' Monument Circle
Guest Roadtripper Jim Lingenfelter invites us to join him on a trip to one of the Circle City's most intriguing buildings: the Circle Tower, located on Monument Circle in Indianapolis.
Built in the Roaring Twenties, the Circle Tower radiates the opulence and excess of the period. Marble-lined interior walls, bronze sculptural works on the facade and copious architectural details in the Art Deco style all conspire to convey a sense of wealth and sophistication.
There's a bit of ancient history here as well: constructed during a time when Egyptology was all the rage (King Tut's tomb had just been discovered in 1922), the Indianapolis architecture firm of Rubush and Hunter incorporated copious Egyptian motifs into the building's decor. The bronze grill above the Market Street entrance is replete with hieroglyphic-like imagery that seems to have been borrowed from the walls of a tomb in the Valley of the Kings. The upper stories of the building even have the form of a ziggurat (rectangular stepped tower), evoking an Egyptian pyramid.
Jim's interest in the property stretches back before the Circle Tower's construction, however, and is based on a genealogical connection. Direct ancestors of his purchased that quadrant of the Circle in 1831 and by 1835 were operating a boarding house there. "They sold the property in 1873 but continued to live there until 1880 according to City Directories," Jim explains. He'll go into more detail during the show, including the property's years as location of the Franklin Life Insurance headquarters.
Be sure to tune in for this exciting Roadtrip to Egypt by way of Indianapolis!
History Mystery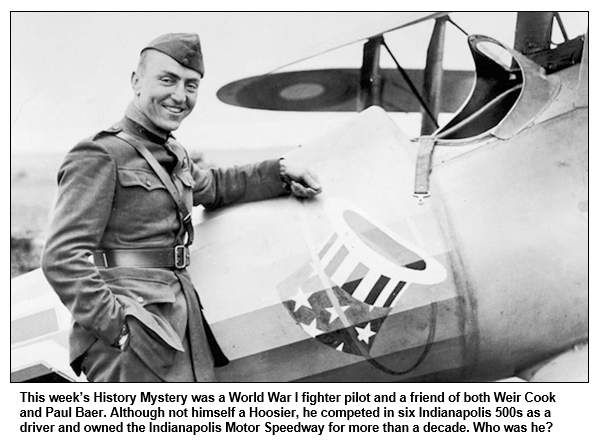 A fighter pilot during World War I who achieved international fame became a friend of both Weir Cook and Paul Baer. The pilot, who eventually was awarded the Congressional Medal of Honor, was not a Hoosier, but he was connected in several ways to Indiana.

As a race driver, he competed in six Indianapolis 500s. He even owned the Indianapolis Motor Speedway for more than a decade.

Question: Who was fighter pilot, Congressional Medal of Honor winner, race car driver and IMS owner?

Please do not call in for the History Mystery; this is a pre-recorded, encore show.

Nelson Price, host and historian
Molly Head, producer/general manager, (317) 927-9101
Mick Armbruster, associate producer
Cheryl Lamb, administrative manager
Richard Sullivan, senior tech consultant
Pam Fraizer, graphic designer
Garry Chilluffo, consultant
Please tell our sponsors that you appreciate their support!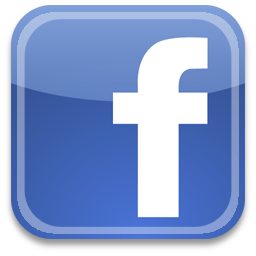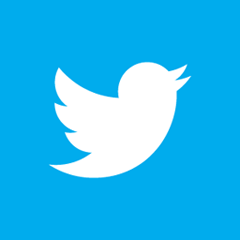 For organizational sponsorship, which includes logos, links, and voiced credits in the show and in podcasts, email molly@hoosierhistorylive.org, or call (317) 927-9101 for information. Our podcast listens are increasing and we are being distributed on Indiana Memory and the National Digital Public Library. Grow with us as our podcast and internet presence expands! Thanks also to Visit Indy, Fraizer Designs, WICR-FM, Henri Pensis, Genesis Brown, Kielynn Tally, Heather McIntyre, Justin Clark, and many other individuals and organizations.
Thank you!
We'd like to thank the following recent, new and renewal contributors whose donations help make this show possible!
Kathleen Angelone 
Tim and Meg Shelly
Connor & Company, Inc.
Georgia Cravey and Jim Lingenfelter
Ann Frick
Yetta Wolen
In memory of William G. "Bill" Mihay
Dr. William McNiece
Michael Freeland and Sharon Butsch Freeland
David E. and Lynne J. Steele
Stacia Gorge
Margaret Smith 
Rachel Perry
Tom and Linda Castaldi
Greg Larson
Marion Wolen
March 27, 2021 - coming up
Fugitives and prison escapees from Indiana
Indiana wants me
Lord, I can't go back there.
Those were the opening lines of a pop song that became a hit in 1970, rising to No. 5 on the Billboard Top 100 list. True crime author Andrew Stoner uses the song, Indiana Wants Me, in his newest book as an entree to exploring fugitives and prison escapees throughout more than 100 years of Indiana history.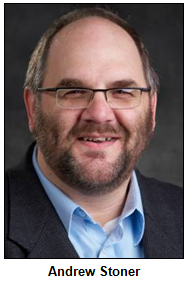 To discuss several of the cases described in Wanted in Indiana: Infamous Hoosier Fugitives (The History Press) - including the assassination attempt in 1980 of a national civil rights leader in Fort Wayne that returned to the headlines this month - Andrew will be Nelson's guest. A native of Goshen and a former civilian spokesman for the Indianapolis Metropolitan Police Department, Andrew now is an associate professor of communications studies at California State University in Sacramento.
During our show, we will explore two cases connected to the FBI that illustrate advances in techniques for tracking down criminals. An escapee in 1919 from the Indiana State Prison in Michigan City was not found until the 1940s, when the FBI's fingerprint detection techniques finally resulted in his identification after a traffic stop in California. In 1960, a robber of banks in Logansport and Hamlet, Ind., made the FBI's Most Wanted List - and was captured just 24 hours later.
In 1980, racist Joseph Paul Franklin committed two shootings in Indiana (one of them fatal) before attempting to assassinate Vernon Jordan, president of the National Urban League, during his trip to Fort Wayne for the organization's annual meeting. Using a hunting rifle, Franklin shot Jordan in the back.
Following a long recovery that made national news, Jordan survived and continued as a close advisor to U.S. presidents, including Jimmy Carter and Bill Clinton. During our show, Andrew will describe how Franklin was tracked down after several months and more shootings. When Jordan died this month at age 85, the horrific episode in Fort Wayne was recounted in his obituaries.
Also during our show, Andrew and Nelson will explore the cases of:
Leslie "Mad Dog" Irvin, a notorious killer who escaped from the Gibson County Jail in southwestern Indiana in 1956. One of the cases involving Irvin, who was accused in multiple shootings, made it all the way to the U.S. Supreme Court, where it set a precedent involving pretrial publicity.
Two women who escaped, separately, from the Indiana Women's Prison when it was located on the near-eastside of Indianapolis. One of the women was not found for 35 years; the other spent many years living, crime-free, just a few blocks from the prison.
And a 15-year-old from Tippecanoe County who fled in 1942 after being accused of several crimes. Even though Floyd Loveless was a juvenile, he eventually was executed in Nevada after shooting a constable; the case illustrates the differences in the imposition of the death penalty since the 1940s.
As a break from exploring the violent crimes, Andrew and Nelson also will discuss the colorful history of the 1970 song "Indiana Wants Me." Written and performed by Toronto native R. Dean Taylor - it was his only hit, according to Wanted in Indiana - the song remained on Billboard's charts for 15 weeks. Later, it was included on a list of the "52 Most Depressing Songs You've Ever Heard."

Copyright 2021