July 09, 2022
Trail-blazing Black racing circuit and Charlie Wiggins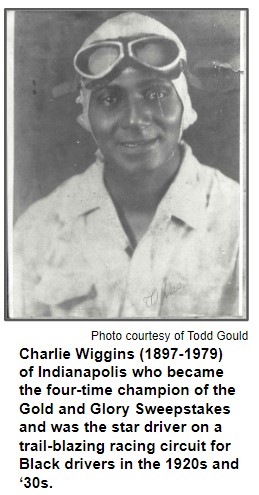 Buckle up for a bumpy expedition through an era of sports history and the life of a champion race driver that had been mostly forgotten for decades after the Great Depression.
The Gold and Glory Sweepstakes was, as our guest has written, "a freewheeling, dust-raising, 100-mile grind around a one-mile dirt track at the Indiana State Fairgrounds in Indianapolis . . . (It was) an annual sporting event so grand it attracted the attention of national news agencies as well as thousands of spectators."
During the 1920s and '30s, the Gold and Glory Sweepstakes was the showcase event of an Indianapolis-based professional racing circuit for African American drivers and mechanics with events in Chicago, Detroit, Dayton and other Midwestern cities. During an era of racial segregation, the circuit showcased competitors who were not welcomed by the American Automobile Association, the national sanctioning body of auto races that included the Indianapolis 500.
The champion driver on the circuit was a humble Indianapolis mechanic named Charlie Wiggins who built his own race car and won the Gold and Glory Sweepstakes four times. A native of Evansville, Wiggins (1897-1979) began shining shoes as a teenager in front of a local auto repair shop. After listening intensely to conversations about technical issues, he quickly became a talented auto mechanic himself despite continual racial barriers.
Although his life sounds like the basis of a major movie, as does the circuit organized by the Indianapolis-based Colored Speedway Association, Hollywood has yet to spotlight them. But they have been featured in an award-winning PBS documentary, For Gold and Glory, produced by filmmaker Todd Gould in 2002. That same year, Todd wrote an acclaimed book about Wiggins and the racing circuit, For Gold & Glory: Charlie Wiggins and the African American Racing Car Circuit.
Since his multimedia projects that showcased the Black racing circuit, which ended in 1936 and had long been forgotten, more developments have occurred. Last year, Charlie Wiggins was inducted posthumously into the Automotive Hall of Fame based in Dearborn, Mich. And an eye-catching headstone has been erected at the burial site of Wiggins and his wife, Roberta, who initially had been buried in unmarked graves at Crown Hill Cemetery.
Todd, a senior producer and director at WTIU-TV in Bloomington and an adjunct professor at the IU Media School, will be Nelson's guest on a show about the Gold and Glory Sweepstakes and Charlie Wiggins. Todd produced his documentary about them for WFYI-TV in Indianapolis.
The first Gold and Glory Sweepstakes race was held at the state fairgrounds in 1924. According to Todd's book, attendance exceeded all expectations and included more than 12,000 spectators, many of whom took streetcars from Indiana Avenue (where a pre-race parade was held) to the fairgrounds.
Charlie Wiggins won his first Gold and Glory Sweepstakes in 1926. He went on to become the greatest African American driver of the era, Todd writes. His racing career came to an abrupt end in 1936, when he was involved in a tragic, 13-car pileup in the Gold and Glory Sweepstakes. Although he managed to survive the horrific crash, his right leg had to be amputated. The Gold and Glory Sweepstakes ended with that race; also in 1936, the Colored Speedway Association shut down as a result of several factors, including economic challenges during the Great Depression.
In 1991, Willy T. Ribbs became the first African American driver to qualify for the Indy 500. He was the guest on a Hoosier History Live show in 2019 that explored his trail-blazing racing career.

Todd Gould also has been a previous guest. He shared insights about a 1930s and '40s group of vaudeville and movie musicians known as the Hoosier Hot Shots on a show in 2018.

For his projects about the Black racing circuit and Charlie Wiggins, Todd spent more than seven years in research. He was able to track down and interview Wiggins' widow, Roberta, before she died at age 102. Todd's other acclaimed documentaries include films about Hoosier Group painter T.C. Steele and World War II correspondent Ernie Pyle.




It's not too late to register for our Hoosier History Live 14th Annual Soiree on July 14. Please use our EVENTBRITE form to let us know that you are coming. You have the option of ordering a free ticket, OR a free ticket with voluntary contribution. This is a celebration of free speech and independent local journalism, hosted by the Kurt Vonnegut Museum and Library.

Wanda June Bar and delicious appetizers by Black Plate Catering. Historic garb encouraged; Vonnegut Library CEO Julia Whitehead will appear as Napoleon Bonaparte. (Okay, Kurt wrote about Napoleon!) Nancy Hanks Lincoln to be escorted by Abraham Lincoln. Live History Mystery contest with host Nelson Price on the second floor. Caleb Hawkins as wandering fiddler and storyteller. Herron High School Strings. Business casual or historic garb; if the heat continues we may be seeing some old-fashioned bathing suits!
Roadtrip: House of Bells in rural Putnam County
The House of Bells is one of those 'aha' spots you come across when wandering the backroads of Indiana. Hundreds of bells, huge battleship chains, buckets that you can swing in, traps to catch 50-foot-tall bears, and Paul Bunyan's ax are all in the front yard of an abandoned farmhouse! Quite a sight in Putnam County!
Guest Roadtripper Ken Marshall tells us that the property belongs to John Slaven Sr. and apparently his uncles started collecting bells and other fascinating large metal objects in the 1950s and 1960s. Why? Well, why not? Of course, the uncles have long since passed away, but their collection remains.
Ken was able to talk to the owner's son, John Slaven Jr., and received permission to walk the property. Ken could see a fenced off area and sink holes all around dozens of bells that are mounted prominently on the land. He said Mr. Slaven said there have been a few incidents of trespassers and some theft of some smaller bells, but the collection stays largely intact. In addition to the hundreds of bells are some nautical artifacts as well, including large anchors and battleship chains. Another curious item is a 50 foot bear trap with a plaque on the trap. The plaque claims that the bear trap is an exact replica of the one made by Sam Houston and used at Fort Sam Houston.
So do the bells ring? There are stories of rural neighbors hearing the bells ring on New Years Eve and other holidays, but that has been a while ago.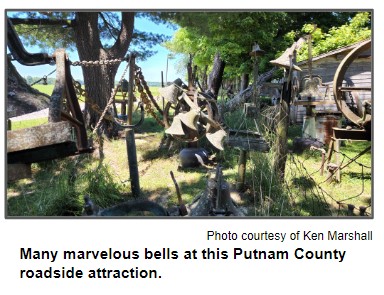 Show topics, and prizes sought
Everyone is welcome to pitch a main show topic to our host, Nelson, at nelson@hoosierhistorylive.org If you suggest a topic, you must also provide contact info for a suggested guest or guests. Guests need to be knowledgeable, and easy to listen to on radio.

Prizes continue to be sought for our on-air History Mystery contest, as well as for our in- person History Mystery contest at our big Soiree on July 14th at the Kurt Vonnegut Library and Museum. Yes, look for Nelson on the second floor of the library for the live History Mystery contest! Of course, you can also ask him questions. Believe it or not, he's happy to talk!

Ideally, prizes for on air trivia should fit in a business size envelope. Prizes to be given away at HHL 14 can be larger; books, cd's, dvd's, etc. Contact molly@hoosierhistorylive.org if you'd like to offer prizes. We think it's good public relations for your business or organization!
Who We Are
Hoosier History Live is an independent production group. We raise our own money and we control our content. We make our own editorial decisions, much like a newspaper. Our goal is to deliver an interesting and compelling show, newsletter, and show podcast to you every week. Regardless of the challenges.
You can always visit the yellow contribution button here, which we believe supports the quality journalism that Hoosier History Live offers.
Cheryl Lamb, administrative manager
Richard Sullivan, senior tech consultant
Pam Fraizer, graphic designer
Garry Chilluffo, consultant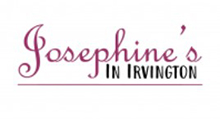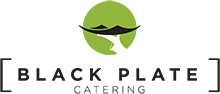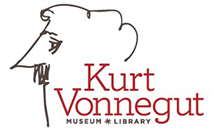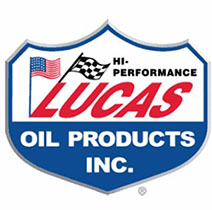 "...Fills a niche..."
"Hoosier History fills a niche for the lover of Indiana history." Kathleen Madinger Angelone
"... a compelling and engaging project..."
"Molly Head and Nelson Price are Indiana-based visionaries who have created a compelling and engaging media project with Hoosier History Live. Podcasts, website, enewsletter, and live call-in radio show; it's all there!"
- Keira Amstutz, President and CEO, Indiana Humanities
Please tell our sponsors that you appreciate their support!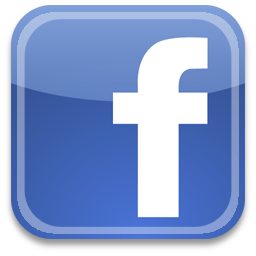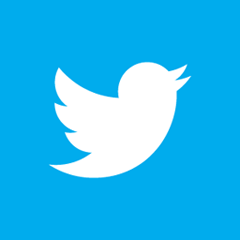 Acknowledgments to WICR-FM, Fraizer Designs, The Indiana Album, Monomedia, Indiana Historical Bureau, Indiana Landmarks, Henri Pensis, Kielynn Tally, Genesis Brown, Leticia Vasselli, Heather McIntyre, and many other individuals and organizations. We are independently produced and are self-supporting through organizational sponsorship and through individual contribution at the yellow button on our newsletter or website. For organizational sponsorship, which includes logos, links, and voiced credits in the show, contact Molly Head at (317) 506-7164 or email her at molly@hoosierhistorylive.org. Our media reach continues to grow via podcasting.
Thank you!
We'd like to thank the following recent individual contributors who make this show possible. For a full list of contributors over the years, visit  Support the Show on our website.

Meg Storrow
Eunice Trotter
Norma Erickson
Kristen VantWoud
Chandler Lighty
Reid Duffy
Kassie Ritman
Kevin Murray and Kasey Kendrick
Tom Swenson
Theresa and Dave Berghoff
Ann Frick
Elizabeth Ulen
© 2022 Hoosier History Live. All rights reserved.