November 26, 2022
Artist who crusaded to save the Dunes - Encore
Just as steel mills and other industrial developments were threatening the Indiana Dunes during the early 1900s, a crusader for their preservation was galvanized into action.
As an activist, his tools were a canvas and a paintbrush.
Captivated by the scenic beauty of the natural wonders on the shoreline of Lake Michigan, artist Frank Dudley (1868-1957) devoted the rest of his life to creating landscape paintings of the Indiana Dunes and rallying the public to protect them.
Although based in Chicago, Dudley and his wife Maida built a Dunes studio that they opened to the public for 33 years "to convert visitors, one by one, into Dunites," according to a new biography of the painter. His mid-life decision to refocus his career made Dudley one of the era's preeminent artists with an Indiana connection.
Acclaimed art historian Rachel Berenson Perry, the author of Painter of the Dunes (Indiana Historical Society Press), is Nelson's guest on this encore broadcast of a show that initially aired on Aug. 7, 2021, to share insights about Dudley and his impact on the preservation of the Dunes.
This show dives deeper into an influential artist mentioned during a Hoosier History Live program in 2019, when we explored the heritage of the distinctive shoreline following its designation as the state's first national park, the Indiana Dunes National Park.

Included within the 15,000 acres of the national park is the Indiana Dunes State Park, which was established in the 1920s. According to Painter of the Dunes, a dozen Indiana lawmakers discussed the idea of creating a state park during a gathering at Duneland, Dudley's studio.

By then, the biodiversity of the Indiana Dunes - which includes wildflowers, swamps and even woodlands in addition to the iconic sand dunes - was catching the interest of scientists as well as preservationists, outdoor enthusiasts and artists like Dudley. He had been introduced to the Dunes by his brother Clarence, a Chicago-based photographer who began making expeditions with Jens Jensen, a famous landscape architect.

In 1917, Frank Dudley was among the thousands of attendees at the Dunes Pageant, an enormously influential event; he "vowed on that day to dedicate his art and his persuasive efforts to preserving the Dunes," according to Rachel's book. She writes that Dudley persisted with his "almost obsessive subject matter as well as his activism" even though colleagues warned him about limiting his artistic focus.

Rachel Berenson Perry has been a frequent guest on Hoosier History Live shows that have explored Indiana artists, often in connection with her previous books. They have included William J. Forsyth: The Life and Work of an Indiana Artist (Indiana University Press, 2014) and Paint and Canvas: A Biography of T.C. Steele (Indiana Historical Society Press, 2014).

Live talk radio
Roadside Architecture across Indiana was the topic on May 10, 2016.
The show featured discussions about such memorable bits of roadside architecture as the Coffee Pot in Pennville, Char-Bett Drive In in Logansport, XXX Family Restaurant in W. Lafayette, and more.
Left to right are Paul Diebold with Indiana DNR Division of Historical Preservation, host Nelson Price, and public historian Glory-June Greiff, sporting a Dinosaur Land T-shirt. We're not sure what Paul's T-shirt is about!

A Legendary Roadtrip: T.C. Steele and Waveland, Indiana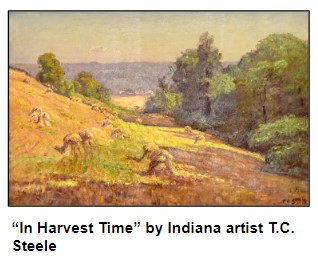 Guest Roadtripper Tim Shelly of South Bend says it's worth the drive to go to the small town of Waveland in far southwestern Montgomery County to see the painting "In Harvest Time" by Hoosier artist T.C. Steele. This might be a bit of an exaggeration, but then Waveland captures the spirit of small-town Indiana of yesteryear, and the painting is in a magnificent Carnegie library there. And besides, Waveland is also quite near to Turkey Run and Shades State Parks.
The small town is also home to T.C. Steele's Boyhood Home, which is on the National Register of Historic Places. And many of T.C. Steele's relatives are buried in the Waveland Methodist Cemetery, which is just east of the Carnegie library.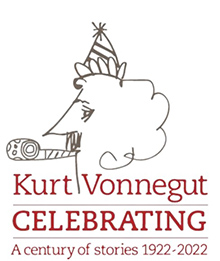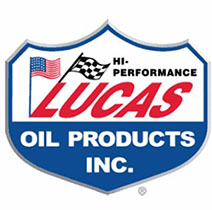 Your contributions helps keep Hoosier History Live on the air, on the web and in your inbox!

We'd like to thank the following recent individual contributors who make this show possible. For a full list of contributors over the years, visit  Support the Show on our website.

In memory of William (Bill) Mihay by Bob Wakefield
Florence and John Stanton
Aleta Hodge
Peggy Hollingsworth
Lorraine Phillips Vavul
Margaret Smith
Jane Hodge
Jeff Price
Joe Young
Sue and Craig Thomson
Richard Vonnegut
Jim Lindgren
Ken and Luan Marshall
Cheryl Lamb, administrative manager
Richard Sullivan, senior tech consultant
Pam Fraizer, graphic designer
Kathleen Madinger Angelone, Garry Chilluffo, consultants
Please tell our sponsors that you appreciate their support!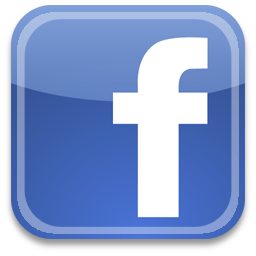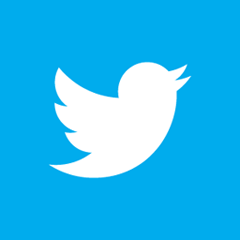 Acknowledgments to WICR-FM, Fraizer Designs, The Indiana Album, Monomedia, Indiana Historical Bureau, Indiana Landmarks, Henri Pensis, Kielynn Tally, Genesis Brown, Leticia Vasselli, Heather McIntyre, and many other individuals and organizations. We are independently produced and are self-supporting through organizational sponsorship and through individual contribution at the yellow button on our newsletter or website. For organizational sponsorship, which includes logos, links, and voiced credits in the show, contact Molly Head at (317) 506-7164 or email her at molly@hoosierhistorylive.org. Our media reach continues to grow via podcasting.
© 2022 Hoosier History Live. All rights reserved.