January 28, 2023
Calvin Fletcher, first prominent civic leader in Indianapolis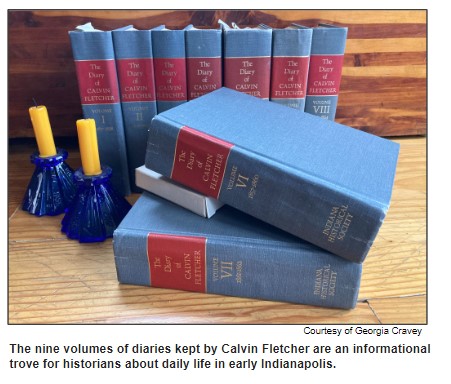 When he arrived in the brand new city of Indianapolis in 1821, Calvin Fletcher was nearly penniless. Yet he went on to become the first attorney in the new state capital city, a banker, a state legislator and a wealthy landowner. Fletcher, who was passionately anti-slavery, also became the first major civic leader in his adopted hometown.
To top it off, Fletcher (1798-1866) wrote an astounding, nine-volume diary. Since its publication by the Indiana Historical Society, the extensive diary has become a trove for anyone seeking insights about daily life in early Indianapolis. In his diary, Fletcher described everything from the weather to events, large and small, in Indianapolis.
A native of Vermont (Fletcher was just 17 when he left his family's home), the self-made early power broker became the patriarch of a family that was prominent in the city for many generations. As his wealth increased, Calvin Fletcher moved into various houses, but for a long period he lived at Wood Lawn, a farmhouse he built on his 269-acre farm in what's now the Fletcher Place Neighborhood just south of downtown Indy. Fletcher also owned vast amounts of property elsewhere in the city and state, including large tracts of farmland in Hamilton County.
Outraged by slavery (he called it "a curse upon the land"), Fletcher actively supported the formation during the Civil War of the 28th Regiment U.S. Colored Troops, an infantry of African Americans from Indiana. The recruits trained at Camp Fremont, which was set up on his land in Fletcher Place. Calvin Fletcher was an ally of Rev. Willis Revels, the pastor of Bethel African Methodist Episcopal Church, who was the recruiting officer for the 28th Regiment.
To share insights about Calvin Fletcher's colorful life and major impact, Nelson will be joined by Indianapolis-based historic researcher Georgia Cravey, a retired librarian. Georgia, who has read all nine volumes of Fletcher's diary at least twice, lives in a historic house in Fletcher Place.
Calvin Fletcher had 11 children with his first wife, Sarah Hill Fletcher, who managed a maple syrup camp in Indianapolis. Sarah also kept a diary. After her death in 1854, he married his second wife, Keziah, a teacher who, like most of the Fletchers, highly valued education. Calvin Fletcher, though, had only limited schooling when he was growing up in New England.
In Indianapolis, which was platted in the wilderness in 1821 just months before Fletcher's arrival, he became the first practicing attorney. He also helped organize Indiana's first state bank; several of his descendants were prominent bankers for many generations. In addition, Fletcher served as a state senator in the Indiana General Assembly.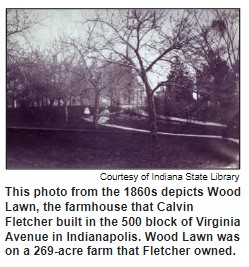 As a civic leader, he helped start some of the city's first charitable organizations, including what in the 1830s was called the Indianapolis Benevolent Society. As the nonprofit evolved, it had other names, primarily Families First; since a merger in 2022 with the Children's Bureau, it is called Firefly Children and Family Alliance. Hoosier History Live explored the history of Families First and the Children's Bureau during a show in December 2014.
Although Calvin Fletcher's houses, including Wood Lawn, are long gone, his name continues in various ways in Indianapolis. Examples include Fletcher Avenue and Calvin Fletcher's Coffee Company in Fountain Square, the neighborhood that borders Fletcher Place.
His ally and friend Willis Revels was a physician in addition to being an influential pastor at Bethel AME, the first Black church in Indianapolis. Rev. Revels (1810-1879) and Fletcher, a devout Methodist, became advocates for the 28th Regiment U.S. Colored Troops. A historic marker in Fletcher Place honors the site of Camp Fremont. Another marker in the neighborhood describes the impact of Calvin Fletcher.
One of Fletcher's direct descendants, his great-great granddaughter Lillian Fletcher Klein, died in December at age 96. Known as "Poppy", she was a civic leader and an advocate for women's rights in Indianapolis, where she was a lifelong resident.
According to a book about the extended Fletcher family, Our Family Dreams: The Fletchers' Adventures in Nineteenth Century America (St. Martin's Press, 2016), when Calvin Fletcher died in 1866, his funeral cortege "stretched for nearly a mile."
Your contributions help keep Hoosier History Live on the air, on the web and in your inbox!