February 04, 2023
Tuskegee Airmen and their legacy: Indiana links
Buckle up to time travel to World War II and the post-war era as Hoosier History Live explores Indiana connections to the acclaimed Tuskegee Airmen. There even are Indiana/Tuskegee links; such as MOAA, to the aerial competition that eventually became known as "Top Gun", the inspiration for blockbuster movies.
This show follows up a program in 2017 that delved into the lives of several Hoosiers who were fighter pilots in the trailblazing squadron, which drew its name from the Tuskegee Army Air Field in Alabama. This time, as Hoosier History Live salutes Black History Month, we will spotlight an aviator and educator from Angola, Ind., who became the director for the first two phases of flight training for the Tuskegee Airmen. Not only that, four of the Tuskegee pilots trained by Dr. Lewis Jackson (1912-1994) went to win the championship trophy in the first U.S. Air Force competition that came to be called "Top Gun". Those pilots in that initial competition (officially called the Air Force Fighter Gunnery Meet) were flying an aircraft made in Evansville, a Republic P-47 Thunderbolt.
Our guide for all of this and other Tuskegee/Indiana connections will be Reginald DuValle, an Indianapolis native who graduated in 1979 from the U.S. Air Force Academy. Known as "Reg", he is the past president of the Indianapolis chapter of Tuskegee Airmen Inc, a nonprofit that honors members of the all-black Army air squadron who served during an era when the military was segregated.
Many of the men who were part of what is known as the "Tuskegee Airmen Experience" were not pilots and did not aspire to be. Many fought in World War II as ground crewmen or in other non-flying support roles. Both flight and on-flight Tuskegee Airmen were collectively awarded a Congressional Gold Medal in 2007. All of the Hoosiers who were part of the Tuskegee Airmen Experience are now deceased.
During our show, Reg DuValle will share insights about Indianapolis native Charles DeBow, who was in the first class of trainees at the Tuskegee Institute. DeBow went on to be a distinguished combat pilot during World War II and commander of the 301st Fighter Squadron that deployed to Italy in 1944. He has been posthumously inducted into the Indiana Aviation Hall of Fame, which was established in 2020 and was the focus of a Hoosier History Live show later that year in November.
During our show, we also will revisit a civil rights episode at Freeman Field (now Freeman Municipal Airport) in Seymour, Ind., where some of the Tuskegee Airmen received additional training. In April 1945, more than 100 Black officers were arrested when they refused to sign an order that they would not enter a whites-only officers club. Our guest Reg DuValle will explain how the "Freeman Field Mutiny" unfolded. The arrests came in the days after Black officers attempted to enter the segregated club and were prohibited. Hoosier History Live explored some aspects of the non-violent civil rights protest during a 2020 show with historian Ray Boomhower; he described the arrests of the African American officers of the 477th Bombardment Group at Freeman Field in his book To Be Hoosiers: Historic Stories of Character and Fortitude (The History Press, 2020).
Dr. Lewis Jackson, the native of Angola who was director of flight training for the Tuskegee Airmen, graduated from Indiana Wesleyan University in Marion in 1939. The library at the university (which was known as Marion College when he attended it) has been named in his honor. As a teenager in Angola in far-northeastern Indiana, he became captivated by early aircraft and was mentored by the owner of a small airfield in the town. Like Charles DeBow, Dr. Jackson already was a licensed pilot before going to the Tuskegee Institute.
As a director at Tuskegee, Dr. Jackson trained the four aviators (not Hoosiers) who, after the U.S. Air Force was established in the late 1940s, and won the first prestigious competition to honor the "best of the best" fighter pilots. The annual competition later inspired the blockbuster movies "Top Gun" (1986) and its sequel, "Top Gun: Maverick" (2022) starring Tom Cruise.

After World War II, Dr. Jackson earned a PhD (doctorate) degree and became an administrator and teacher at various colleges in Ohio. He continued his involvement in aviation, serving as an FAA flight examiner. A historic marker in his honor has been dedicated in Xenia, Ohio, where he lived for many years.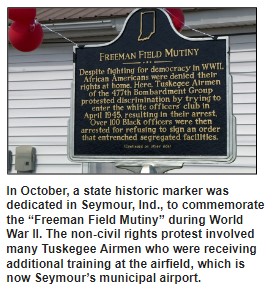 Last October in Seymour, a historic marker was erected about the Freeman Field Mutiny. Our guest Reg DuValle was involved in the dedication of the marker, which is at Freeman Municipal Airport. Referring to the discrimination at Freeman Field and other challenges, Reg DuValle says the Tuskegee Airmen achieved a double victory: "one against fascism overseas, and the other against racism at home".
During our 2017 show, Reg was joined by the son of the late Charles B. Hall, a native of Brazil, Ind., who became the first Tuskegee Airman to shoot down three enemy fighter aircraft. Like Charles DeBow, Charles B. Hall has been inducted posthumously into the Indiana Aviation Hall of Fame.
Your contributions help keep Hoosier History Live on the air, on the web and in your inbox!