March 11, 2023
Cathy Morris: Jazz violinist, producer and composer
When well-known Indianapolis-based jazz violinist Cathy Morris was growing up in Columbus, Ind., she was influenced by a woman in the same house: her mother, a multimedia artist.
Cathy, 61, has gone on to emulate her mother's multi-disciplinary approach. In addition to her performing and recording career (she plays the electric violin), Cathy is a producer and a composer. She founded Arts With A Purpose, a non-profit that connects a range of artists (from musicians and dancers to visual artists) with various Indiana communities, with a goal of inspiring social change. She has produced "Here For You", a compilation disc of music by 18 women musicians from Indiana.
As Hoosier History Live salutes Women's History Month, Cathy Morris will be Nelson's guest to explore various aspects of her life and career, which has included performances with student orchestras across the state. Last March our spotlight was on a trail-blazing novelist and mentor for aspiring writers, Barbara Shoup, the former executive director of the Indiana Writers Center.
Cathy Morris describes her mother, Patricia Spurlock, who died last November, as "by far the most influential woman in my life when it comes to the arts". She was the director of the Columbus Area Arts Council as well as a photographer, ceramicist and an art teacher. Cathy recalls tagging along when her mother took a range of art classes at Indiana University.
The lifelong focus on creativity sets an example, Cathy says. She studied classical violin and arts management at I.U.
Beginning as a free-lance musician at age 14, Cathy has gone on to perform at opening ceremonies for major events, festivals and concerts; she has been the opening performer for famous musicians like Al Jarreau, Sandi Patty and Burt Bacharach, who died last month.
As a woman producer, she says she has encountered what she calls "perceived assumptions and traditionalism". She explains: "I noticed at a very young age buyers will always assume the bandleader is male, even when your name is on the contract". She notes that almost all of the booking for jazz festivals is done by men.
To showcase Hoosier women musicians, she produced "Here For You", the compilation recording of all-women's music. Musicians featured on the recording include jazz pianist Monika Herzig, who has been a Hoosier History Live guest in 2016, and the Hampton Sisters, who emerged from the Indiana Avenue jazz scene in the 1940s and '50s.
Cathy Morris' first professional recordings, including a CD of holiday music, were released during the 1990s. Before that, she had met jazz guitarist and composer Royce Campbell, who encouraged Cathy to play in an alternative style and buy an electric violin. With him, she began performing at Indianapolis clubs, then at concerts that have included Indy Jazz Fest, Wes Montgomery Festival, and the Animals and All That Jazz series at the Indianapolis Zoo. She has even performed concerts in Japan.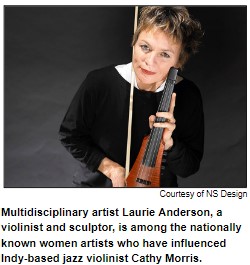 Along the way, Cathy says she developed an admiration for a nationally known woman musician she regards as trailblazer: Laurie Anderson, a violinist and multidisciplinary artist. The two have never met, but Cathy says she admires the "individualism" of Laurie Anderson, who was trained in sculpting as well as the violin.


Your contributions help keep Hoosier History Live on the air, on the web and in your inbox!