April 15, 2023
Ask Nelson and Jo Ellen Meyers Sharp, too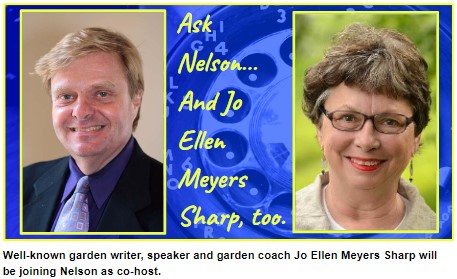 As Hoosier History Live salutes spring, we will have another in our periodic series of call-in shows. During these shows, listeners are invited to call in with questions or insights about any aspects of Indiana's heritage. As a bonus, our host, Nelson Price, is joined by a co-host; they interview each other in between fielding the phone calls.
To celebrate spring, who better to join Nelson than our favorite gardening expert, Jo Ellen Meyers Sharp, the Indianapolis-based writer, editor and speaker known as the "Hoosier Gardener''. Jo Ellen also is a garden coach and the past president of Garden Comm: Garden Communicators International. Jo Ellen has a free, award-winning newsletter; to subscribe, visit hoosiergardener.com.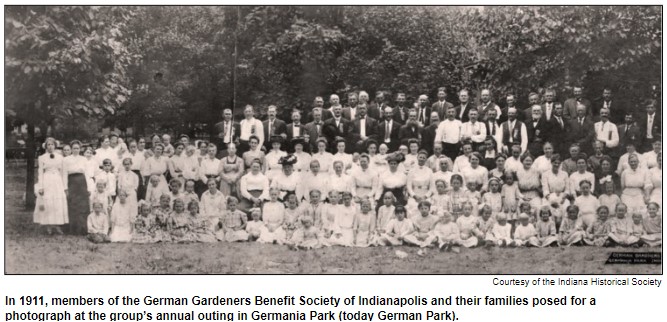 Nelson and Jo Ellen will branch out beyond garden-related topics, but those also are planned for the show. Jo Ellen will share insights about an aspect of Indianapolis city history in which she has deep ancestral roots: the concentration of German heritage growers, florists, nursery owners and gardeners on the southside for more than 100 years beginning in the late 1800s.
In 1890, her great-grandfather, a florist, opened a greenhouse on the southside. According to sources quoted in an article that Jo Ellen wrote for Traces, the magazine published by the Indiana Historical Society, at the peak of the German heritage growers in the 1940s, the southside of Indianapolis probably had the largest concentration of greenhouses in the country.
"Peonies, lilies, dahlias, snapdragons, mums and other flowers were grown in fields and greenhouses for the local and the regional wholesale trade, florist shops and street stands," Jo Ellen wrote. "Maple, ash, oak, roses viburnum, evergreens and other trees and shrubs were grown for planting in the landscapes of new homes and commercial buildings, and along the streets for Indianapolis' growing population."
Speaking of commercial buildings, specifically retailers: During our show, Nelson will share insights about an aspect of modern history involving downtown Indianapolis. Circle Centre Mall, which has been in the news as city leaders discuss possibilities for its future, opened in September 1994 at a lavish, black-tie event with fireworks that Nelson covered as a journalist. His visual history book about the city, Indianapolis Then and Now, includes explorations of the mall, such as the use of the historic facades of downtown retailers on its exterior. The mall's development – which dragged on for years and involved a mountain of challenges – was trumpeted as a revival of downtown shopping in the Hoosier capital.
Today, though, there are no flagship department stores as anchors; many analysts regard the departure in 2011 of Nordstrom, an original anchor, as the start of a decline. An article in the Indianapolis Business Journal speculating about Circle Centre's future quoted experts as saying that, rather than attempting to continue primarily as a retail hub, "a successful revamp must include broader uses, which would likely include housing."
The development of Circle Centre was a $319 million project. As Nelson will describe during our show, when planning began, the expectation was that the flagship store of a beloved, locally-owned retailer, L.S. Ayres & Co., would be an anchor. After Ayres was purchased by St. Louis-based May Department Stores Co. (now Macy's Inc.), the company announced Ayres would not be part of the mall, then closed the store. At that point, the fate of Circle Centre became fragile, much as it may be again. For many years, though, the presence of Circle Centre was a selling point for the city as a convention destination, including, as Jo Ellen notes, the 2011 Garden Writers Conference.
Also during our show, Nelson and Jo Ellen will discuss:
One of the most well-known and best-selling garden plants is the daylily Stella de Oro. Jo Ellen notes that it was bred by a Hoosier, Walter Jablonski of northwest Indiana, in 1975. "It was a breeding breakthrough in daylilies because it reblooms."

The Slippery Noodle Inn is generally considered to be the oldest commercial building in Indianapolis. The tavern, which opened in 1850 and (like Circle Centre) is featured in the Then and Now book by Nelson and photo historian Joan Hostetler. The Inn has been in the news because it recently changed ownership for the first time in 60 years. Nelson will discuss its colorful history and evolution into a popular nightspot for blues music.

And the spotted lantern fly, an insect that Jo Ellen has written about because it is a pest and threatening Indiana landscapes. The insect, which originated in China, has reached the state; although the adult spotted lantern fly is beautiful, it is deadly to many plants, as Jo Ellen will discuss.
Primarily, though, this show will provide an opportunity for listeners to call Nelson and Jo Ellen with any questions or comments about our Indiana heritage. The WICR-FM (88.7) studio number to call is 317-788-3314.
Your contributions help keep Hoosier History Live on the air, on the web and in your inbox!