June 03, 2023
Before Ellis Island: immigration and Benjamin Harrison - Encore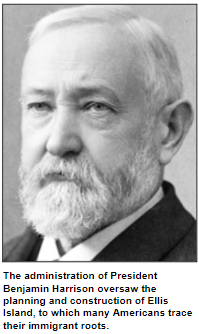 During a show five years ago, Hoosier History Live explored the connections between Indiana and Ellis Island, the gateway to America for generations of immigrants. The receiving center for aspiring Americans in New York Harbor opened in 1892 during the administration of President Benjamin Harrison, the only president elected from Indiana.
As a kind of prequel to that show, in this encore of a program broadcast in July 2022, we delve into the immigration scenario that led the federal government to open Ellis Island, including controversies at its predecessor, Castle Garden on lower Manhattan in New York City. The country's first official immigration center, Castle Garden, was operated by New York officials.
We also will explore the Chinese Exclusion Act of 1882, which Harrison opposed as a U.S. senator from Indiana. The Chinese Exclusion Act, which suspended the immigration of skilled and unskilled Chinese laborers, passed without Harrison's support. According to Nelson's guest, Harrison was labeled the "pro-Chinese candidate" of the Republican Party in his presidential campaign of 1888.
Jennifer Capps, the veteran curator at the Benjamin Harrison Presidential Site in Indianapolis, also will share some insights about Angel Island, a center on the West Coast where immigrants were detained and interrogated. Angel Island opened in 1910, nine years after Harrison's death. In addition to receiving immigrants from Asian countries, Angel Island also was an entry point to America for Canadians, Mexicans, Central and South Americans and Australians.
As Jennifer will explain during our show, major fires at the processing centers, including infernos at Ellis Island in 1897 and at Angel Island in 1940, destroyed the records of thousands of immigrants. The fire at Ellis Island also resulted in the loss of records of many immigrants who had entered previously at Castle Garden.
Last summer, a naturalization ceremony for new American citizens was held at the Benjamin Harrison Presidential Site, along with the dedication of a new, outdoor Citizenship Plaza on the lawn south of the restored home of Harrison and his wife, Caroline Scott Harrison. The plaza's features include a Book of History that lists the new Hoosiers who became citizens at the site, where a naturalization ceremony is an annual event in July.
During our show, Jennifer will share accounts of some shockingly crude medical exams, including eyelid exams performed with instruments that had not been sterilized. At Ellis Island. Immigrants often were turned away if they could not pass various tests, some of which were surreptitious, including the assessments of aspiring Americans as they walked or hobbled up and down staircases at Ellis Island.
According to some estimates, about 22 million immigrants passed through Ellis Island during the years between 1892 and 1924, its peak period as the country's "door", particularly for Europeans. (Ellis Island remained open as a receiving center until 1954. During its final 30 years, limitations on immigration and the creation of other points of entry meant that far fewer immigrants were handled at the island.)
Its predecessor, Castle Garden, was shut down in 1890 by Benjamin Harrison's secretary of the treasury after corruption scandals. According to Ellis Island: Gateway to the American Dream, newspaper investigations in the 1880s determined that "swindlers who had long lurked outside the receiving station had now insinuated themselves inside and that cheating, misleading and stealing were running rampant."
Castle Garden had operated for 35 years, opening in 1855 at the lower tip of Manhattan.
Your contributions help keep Hoosier History Live on the air, on the web and in your inbox!