July 08, 2023
Digging deep into an early major cemetery on the White River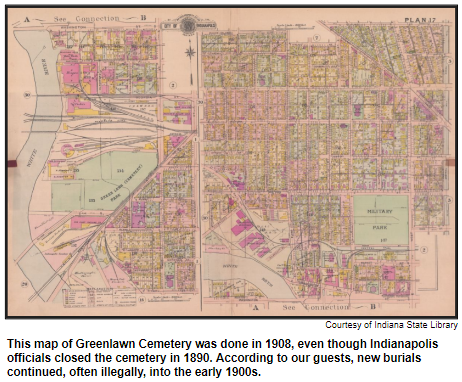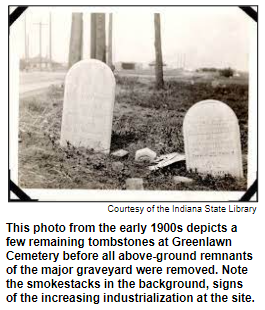 Almost ever since the city of Indianapolis was platted in 1821, a site along the White River has been distinctive for various reasons. It started as a burial site, then multiple graveyards that became known collectively as Greenlawn Cemetery, where thousands of early residents were buried.
Beginning in 1917, Diamond Chain had a manufacturing plant on the site just southwest of downtown that employed hundreds of Hoosiers. Now the site on White River is planned to be the location of a new stadium for the Indy Eleven pro soccer team.
So Hoosier History Live will do a deep dive into the history of Greenlawn, the burial site of initial settlers and subsequent residents, including civic leaders, early African American residents (in segregated parcels), infants, impoverished Hoosiers and a vast range of other Hoosiers. Because of various factors, including the fact that Greenlawn was prone to flooding, the cemetery was closed in 1890.
But, according to our guests, new burials continued (sometimes illegally) for several more years. Many, but far from all, remains from Greenlawn were exhumed and reburied at Crown Hill Cemetery (which opened in the 1860s) and other graveyards. Diamond Chain continued to discover and report human remains on the site for more than 80 years.
To share insights about the history of Greenlawn, Nelson will be joined by two guests: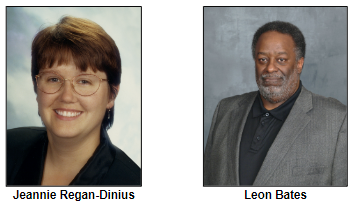 Jeannie Regan-Dinius, a cemetery historian and director of historic preservation at Crown Hill Heritage Foundation. She has been a guest on several Hoosier History Live shows, most recently a program last October about historic landscaping at Indiana cemeteries.

And Leon Bates, an Indianapolis-based historian who has been researching Greenlawn, including the African Americans buried there. He was a Hoosier History Live guest in 2018 on a show about African American health care during the early and mid-1900s.
In 2020, Indiana Landmarks sponsored a video presentation about the Greenlawn site, titled "What Lies Beneath Diamond Chain?", that's available to view on YouTube. Diamond Chain initially made chains for bicycles, then expanded to supply roller chains for an array of businesses. The company was founded locally, but, following a series of corporate acquisitions, announced the closure of the Indianapolis plant in 2020.
That was almost 200 years after the arrival in Indianapolis of the first residents. They included Chaney Lively, the first African American woman to come to the new city; she was buried at Greenlawn when she died in the late 1850s. Hoosier History Live did a show in 2021 about Chaney Lively, who became the first Black woman property owner in the city. Our guest Leon Bates notes that other African Americans buried at Greenlawn included congregation members of Bethel AME Church and the city's other earliest Black churches, as well as Civil War veterans of the 28th U.S. Colored Troops Infantry regiment.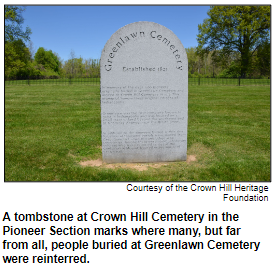 After the creation of Crown Hill during the 1860s, families who could afford to have their ancestors exhumed from Greenlawn and reburied at Crown Hill made arrangements for the process. The reburials, which continued for decades, were mentioned during a Hoosier History Live show in 2014 that focused on the history of Crown Hill; the scenic cemetery was deliberately located on high ground to avoid some of the problems at Greenlawn.
The remains of some Hoosiers in graves at Greenlawn were moved to Floral Park Cemetery and Holy Cross Cemetery. Eventually, all of the above-ground remnants at Greenlawn, including grave markers and crypts, were removed.
Even before the cemetery's closure in 1890 for new burials by the Indianapolis City Council, the surrounding area was increasingly industrialized. Even slaughterhouses were built nearby.
In contrast, as we discussed during our show about historic cemetery landscaping, Crown Hill was among several scenic graveyards created with park-like designs (including Highland Lawn Cemetery in Terre Haute) as part of the Rural Cemetery Movement. Crown Hill became and remains the third largest private cemetery in the country. Notable Hoosiers who were reburied at Crown Hill after having been interred at Greenlawn included some of the earliest Indiana governors after the state capital was moved from Corydon to Indianapolis.
Greenlawn had evolved as an umbrella name for burial grounds known by names such as the "Old Graveyard" and the "New Graveyard". According to several sources, including the "What Lies Beneath Diamond Chain?" presentation, problems that unfolded at Greenlawn, in addition to flooding, included multiple burials in single graves, which sometimes were "three bodies deep".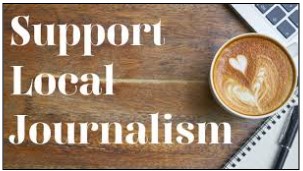 Your contributions help keep Hoosier History Live on the air, on the web and in your inbox!