July 15, 2023
Vinyl era of Indiana music heritage
Strike up the band. But not necessarily a marching band.
For this Hoosier History Live show exploring Indiana's music heritage during what is known as the "vinyl era" (generally defined as 1950 to 1990), the most appropriate band probably would be one that played "rock and roll", as the music was called during its early decades. Histories of other genres during the vinyl era also are being included in a new initiative launched by the Indiana Entertainment Foundation.
The foundation's initiative, called the Indiana Music History Project, is spotlighting the 40-year vinyl records era with various endeavors. They include a new gallery with artifacts such as a recreation of an Indianapolis radio station during the 1960s or '70s; a Wikipedia-type online resource documenting music history during the vinyl era (including entries about Indiana-based businesses, venues and musicians), and a streaming radio service that plays music by all-Indiana singers and bands.
Our guide for this exploration will be music historian and record collector Rick Wilkerson, executive director of the Indiana Entertainment Foundation and the Indiana Music Heritage Project. Rick, who once owned popular vinyl records stores in Indianapolis, will be Nelson's studio guest to share insights about the new initiative and our state's impact during the 1950-1990 music era.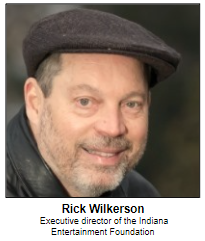 "We want to demonstrate that we had an enormous amount of music talent in Indiana," Rick says. "In addition, people have forgotten about the pressing plants in Indiana for vinyl records that were distributed nationally." They included an RCA plant in Indianapolis and a Columbia Records plant in Terre Haute.
A recreation of a 1960s and '70s rock music radio station is among the attractions in the new gallery, which is located in the lower level of the Flanner and Buchanan Funeral Center, 1305 Broad Ripple Ave. The gallery, which also features posters, photos and other memorabilia from the vinyl era, is open to the public from 9 am to 4 pm Mondays through Fridays.
Want to check out fun facts about performers like guitarist/songwriter Duke Tumatoe (birth name: William Severan Fioro), who wrote a song about the Indianapolis Colts during the 1980s? Or venues such as The Bluebird nightspot in Bloomington? Or bands and businesses associated with various regions of the state like Northwest Indiana?
The factoids are planned for Indiana Musicpedia, which is under development, with much fodder yet to come. One category of Indiana Musicpedia will provide info about genres of music in the state ranging from "country/bluegrass" to "folk/acoustic" and "rhythm & blues". Another category will be subdivided with decade-by-decade info, beginning with 1950-1959.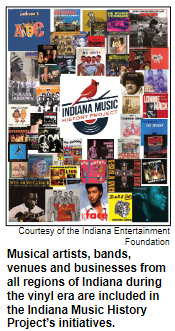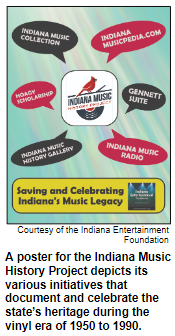 The streaming radio service, which can be accessed for free at Indiana Music Radio, is dedicated to featuring "100 percent Indiana music 24/7" from the vinyl era.

Our guest Rick Wilkerson owns a collection of several thousand Indiana LPs, '45s, tapes, posters and flyers. Rick was one of the guests on a Hoosier History Live show in 2015 about the resurgence in interest in vinyl records by young generations. He's working on a book, expected to be titled "The Golden Age of Indiana Vinyl: 1950-1990".

In addition to the record pressing plants in Indianapolis and Terre Haute, vinyl records also were pressed in Richmond and Shelbyville, Rick notes. As well as Rick's personal collections, which are expected to be the core of a collection of the Indiana Entertainment Foundation, the nonprofit is seeking donations of memorabilia from the vinyl era.

The gallery in Broad Ripple, in addition to the recreation of a 1960s and '70s radio station in Indiana, features photo displays about Hoosier personalities connected to the vinyl era. They include disc jockey Jimmy Mack, who was the host of Indianapolis-based TV dance shows such as "Bandstand 13" and "Teen Twirl". Jimmy Mack (whose real name was Jimmy McDowell) was a guest on Hoosier History Live in 2016, five years before his death at age 99.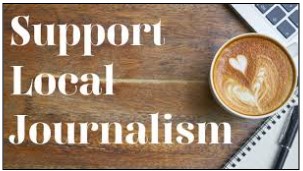 Your contributions help keep Hoosier History Live on the air, on the web and in your inbox!