August 12, 2023
Circus Heritage, then and now, in Peru, Indiana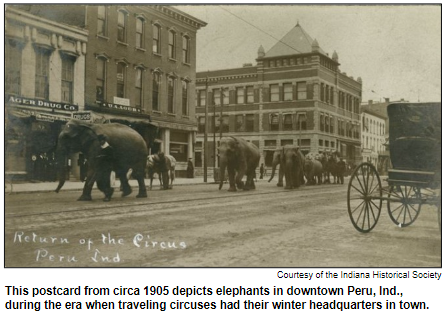 Once upon a historic time, a touring circus started spending the winter in the Indiana city of Peru. Circus performers, exotic animals (camels, tigers, ostriches, hippos and more) and equipment would "winter" and train in the town in Miami County.
Those beginnings in the late 1800s kick-started a heritage that flourishes, in a different way, to this day in Peru, which trumpets itself as the "Circus Capital of the World".
Every summer now, the Peru Amateur Circus showcases a youth program in which about 200 local young people from ages 7 to 21 practice and perform acts such as juggling, tumbling and flying on the trapeze under a permanent, three-ring "big top". It's part of the Circus City Festival's fanfare that also features one of the largest parades in Indiana.
To share insights about the deep circus heritage in Peru and how it was revived after the "wintering" of traveling circuses ended in the early 1940s, Nelson will be joined in studio by three guests. The guests, all from Miami County and board members of the Peru Amateur Circus, will be: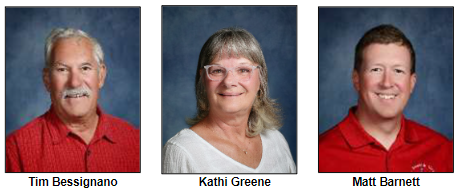 Tim Bessignano, a circus historian who also has served for 33 years on the Circus City Festival's board. He oversees the circus wagon shop and the acquisition of horses for the parade.

Kathi Greene, who has been immersed in the circus heritage in Peru for 51 years, starting when she was one of the original youth performers. She has been a rigger, clown and trainer; her grandchildren are the fourth-generation of her family to be involved in the circus.

And Matt Barnett, a history teacher at Maconaquah Middle School.

The historic, former winter headquarters of the touring circus is now the home of the International Circus Hall of Fame, a museum and National Historic Landmark.
The circus heritage started with Benjamin Wallace, a Civil War veteran from the Peru area who, in 1892, purchased 220 acres (the future winter quarters site) along the Mississinewa River. He bought the Hagenbeck Circus, which then became the Hagenbeck-Wallace Circus.
It eventually became part of the American Circus Corporation, had several circuses under its umbrella and owned one of the world's largest collections of exotic animals. Many of them wintered in Peru, with the result that, by the 1920s, their winter quarters became a popular tourist attraction.
The American Circus Corporation's fierce rival was the Ringling Brothers & Barnum Bailey Circus. But the traveling circus business was hard hit by the Great Depression; in 1941, the winter quarters in Peru closed.
The revival of the circus heritage in the city in the 1960s is credited to Robert Weaver, an artist from Peru who liked to paint circus themes. He founded the Circus City Festival in his hometown.
Today, the Circus City Festival, in addition to the Peru Amateur Circus, includes the parade, performances by the Circus City Band and other events. Thousands of visitors attend the Peru Amateur Circus.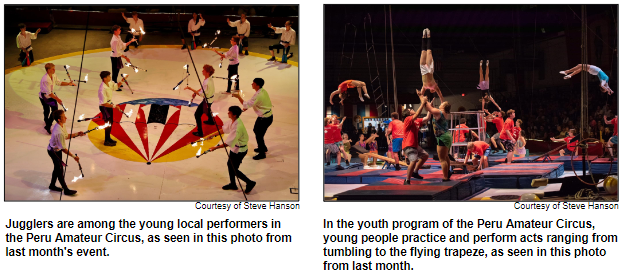 Some fun facts:
During the early 1900s, parades were a way to promote a traveling circus that would be coming to town. "A steam calliope would be played in the parade," our guest Matt Barnett says, noting that a historic calliope is still used in Peru's parade.

A well-known animal trainer, Terrell Jacobs, worked at the winter quarters during the 1920s, then bought land south of Peru in 1940 and opened his own circus. He constructed two barns that housed exotic animals. Those barns have been demolished.

The Circus City Festival extends for several days in mid-July. The Peru Amateur Circus typically has 10 performances.
It takes a village to make Hoosier History Live!
Yes, fans and readers, it takes many people working hard behind the scenes to bring you the Hoosier History Live enewsletter, podcasts, website updates, and social media. And with updates each and every week! You may just see and hear the finished product. But pictured here is the hard working team! L to R, Cheryl Lamb, Ryan DeRome, Corene Nickel, Molly Head, and Nelson Price.
We all do a little bit of everything, and it is a tremendous effort!
We ARE an independent production group, and we DO need money in order to survive as such. Everything we do costs money. For example, we used to pay our editors to publish our show podcasts each and every week. But now we cut costs by publishing our podcasts in batches. In the same way that, say, print newspapers continue to cut their costs, or simply don't exist any more.
Executive producer and project creator Molly Head says, "Good journalism is good journalism regardless of whether it is published for print or for online. Or chiseled on cave walls, for that matter! Smart people put their efforts into publishing online. And I don't think that Hoosier History Live does a good enough job of projecting the fact that we DO need money. Or, I think there is a lot of misunderstanding about how we operate.
I operate Hoosier History Live as a small business. For me, it's a more effective form of management."
"Hoosier History Live is a haven of trustworthy knowledge. Molly Head and Nelson Price are fulfilling a valuable role in making quality scholarship about our state readily available to on-the-go listeners, expanding how we engage with the history and culture of Indiana."
-Wayne Hastings, Bloomington listener and library science student
Your contributions help keep Hoosier History Live on the air, on the web and in your inbox!