February 11, 2023
Myths and tidbits about high school basketball history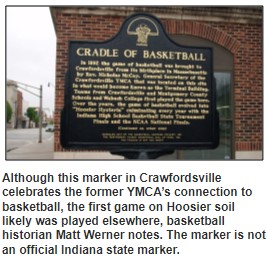 Multi-class basketball that began in the late 1990s killed attendance at games, particularly the tournaments. Girls basketball teams didn't exist at Indiana high schools before the early 1970s. And the first basketball game on Hoosier soil was played in 1894 at a YMCA in Crawfordsville.
All of those are misconceptions, a basketball historian says. So, Hoosier History Live will explore prevailing assumptions about Hoosier high school hoops as well as share tidbits about the history of the sport that has long been part of the state's cultural identity. This will include a look at unusual sites that once served as gyms such as a Studebaker factory in South Bend as well as racial obstacles that confronted a team from Michigan City, Ind., in the 1950s.
Nelson's guest will be Matt Werner, a basketball historian and author based in LaPorte County who is known for his extensive research into the sport's storied past in Indiana. In an in-depth analysis published last March in Nuvo that used data supplied by the Indiana High School Athletic Association (IHSAA), Matt challenged the assumption that the elimination in 1997 of the single-class tournament system in Indiana (immortalized in the movie Hoosiers based on the upset victory in 1954 of tiny Milan High School) killed attendance. Instead, as Matt documented, attendance at tournament games, including sectional, regional and semi-state playoffs, had been in a 25-year slump beginning in 1962, the peak year for tournament attendance. Multi-class basketball, in which Indiana high schools compete against teams of similar size, actually slowed the rate of decline, Matt has concluded.
In addition to delving into whether multi-class basketball unfairly has become a scapegoat for declining attendance. Matt Werner will share insights about the history of girls basketball, which was played at high schools decades before the Title IX (9) Education Amendment in 1972 that called for equalization in sports for boys and girls. Shortridge High School in Indianapolis had a girls basketball team as early as 1898. Girls teams competed into the 1930s even at small high schools such as Union Township High School in LaPorte County, Matt notes.
By the mid-1940s, though, almost all Indiana high schools had dropped girls basketball (and other sports for girls); the public soon forgot they ever had been offered. It wasn't until after Title IX that girls teams were restored, with 1984 becoming the first year that the IHSAA offered an equal number of sports for boys and girls, Matt notes. "In 1972, the IHSAA offered zero sports for girls and 10 sports for boys," he wrote in his analysis of tournament attendance.
Matt is a writer for a documentary about Indiana high school basketball's history that's being produced by WNIT-TV, the PBS affiliate in South Bend; the documentary is expected to be broadcast by PBS stations across Indiana in 2025. He was a guest on Hoosier History Live in 2020 for a show with historian Chandler Lighty that explored the earliest years in Indiana of basketball, which was invented in Massachusetts by Dr. James Naismith, a physical education coordinator at a YMCA.
As on that show, we will explore the long-held claim that the first basketball game in the Hoosier state (where the sport took off like wildfire) was played on March 16, 1894 in Crawfordsville, which touts itself as the "cradle of Indiana basketball". Instead, as Matt will discuss, vintage newspapers from the 1890s describe earlier basketball games in Evansville and Indianapolis; some of the historic newspapers were not easily accessible until recent years when digitization made searching their archives much quicker. Our guest Matt Werner wrote about the myths regarding the earliest games in an article titled "Indiana Basketball Roots Aren't Where You Thought They Were".
Matt is the author of several books, including two planned for publication this year: The Patch Players, about the first Black high school basketball players in Michigan City, and Dispatches from a Northern Hoosier, a collection of his articles and essays. He works on his family's Hoosier Homestead Centennial farm (it has been in his family for more than 100 years) near Union Mills, Ind.
Indiana is home to most of the largest high school gyms in the country. New Castle High School touts its fieldhouse as the largest gym, although the seating capacity eventually became the source of a debate. Hoosier History Live explored the issue in 2020 when Nelson was joined by Chris May, former director of the Indiana High School Basketball Hall of Fame, which also is located in New Castle. Matt Werner plans to comment on the "largest gym" issue during this show.
In addition, he will share insights about what he calls "peculiar" gyms: unusual settings for high school basketball games. Matt has written about the fourth floor of a Studebaker auto factory in South Bend that functioned as the unlikely venue for a game between South Bend Washington High School and Michigan City Elston High School in 1937.
The first state basketball tournament for boys teams was in 1911 and won by Crawfordsville High School.. The most famous game in tournament history is unquestionably the 1954 state championship in which Milan High School upset significantly larger Muncie Central High School. Thanks to a buzzer-beating shot by Milan's star player Bobby Plump, Milan won the game. Bobby Plump was Nelson's guest in March 2014 on the 60th anniversary of the "Milan Miracle", which symbolized the thrilling possibilities of the single-class tournament. The final year of single-class basketball was 1997.
By then, as Matt Werner describes in his article about misconceptions surrounding the multi-class tournament, the number of Indiana high schools (and boys basketball teams) had declined sharply as a result of school consolidation. The number of high school teams participating in the tournament dropped from a peak of 710 teams in 1959 to 382 by 1997. Matt also documents how some Hoosiers had been advocating a multi-class tournament as far back as the 1940s and '50s.
Also during the 1950s, all-Black teams from Indiana high schools began to capture the public's attention, as did African American players on primarily white teams. During our show, Matt will describe the challenges confronted by players in the 1950s from a neighborhood known as "The Patch" in Michigan City. Matt has interviewed players who grew up in The Patch (which was torn down during the 1960s); he has written about how they could not eat at local restaurants or, in other cases, only would be served at the back door with carry-out orders. According to Matt's article, in 1953 the first Black player to lead Elston High School in scoring helped make the love for basketball among Michigan City's residents reach a "fever pitch".
Your contributions help keep Hoosier History Live on the air, on the web and in your inbox!