Hoosier History Live is an independently produced new media project about Indiana history, integrating podcasts, website, newsletter, and social media. Its original content comes initially from a live with call in weekly talk radio show hosted by author and historian Nelson Price. You can hear the show live Saturdays from noon to 1 pm ET. It's over the air in Central Indiana at WICR 88.7 fm, or you can stream at the WICR HD1 app on your phone.
New show podcasts are up!
August 26, 2023- White River State Park history Click here for podcast.
For a complete list of show podcasts and show enewsletters, please go to ARCHIVES on our website.
September 30, 2023
Historic architects and their work in Indiana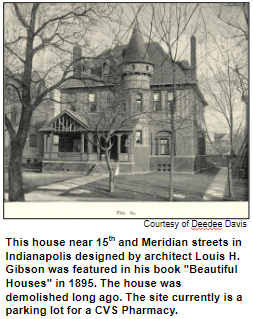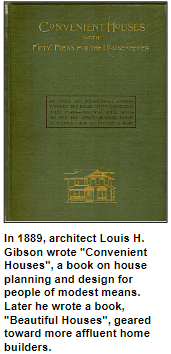 Some of their creations are gone, with parking lots or modern structures currently on the sites. But some of the distinctive work of historic Indiana architects still stands in the town of Madison, the city of Evansville and historic neighborhoods in Indianapolis including Herron-Morton Place and Woodruff Place.
The Indiana Album and various partners are creating an online resource with biographical information about Indiana's architects and the buildings they designed, which ranged from houses and churches to theaters, hotels and a basketball arena.
Some of the structures designed by Indiana's first prominent architect, Francis Costigan (1810-1865), are now museums in Madison, the scenic town on the Ohio River where he was based for much of his career. Other Costigan-designed houses are still private residences. So are homes designed by Indianapolis-based architect Louis H. Gibson (1854-1907), who wrote two books about house planning and design, including Convenient Houses (1889), a guide for people of modest means to build their homes.
To share insights about these early Indiana architects and others, Nelson will be joined in-studio by three guests: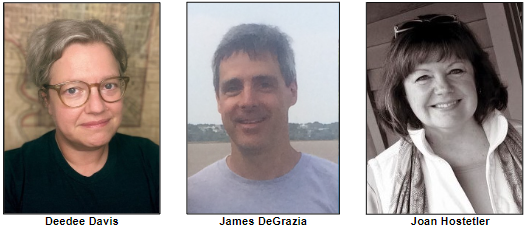 Deedee Davis, visual resources specialist at the Herron School of Art and Design at IUPUI. She lives in the Herron-Morton neighborhood in a house designed by Gibson, who was trained as an architect at the Massachusetts Institute of Technology (MIT) and designed homes in Woodruff Place, the Old Northside and other neighborhoods before his death from a morphine overdose.

James DeGrazia, an architect and engineer who owns and is restoring a home designed by Costigan in Madison. James also is restoring a historic house in the west central Indiana town of Attica. In addition to talking about Costigan during our show, he will share insights about other Indiana architects including Henry Mursinna (1826-1909), who designed several historic structures in Evansville including a mansion that's now the Reitz Home Museum and Trinity United Methodist Church.

And Joan Hostetler, founding director of the Indiana Album, a photographic archivist and Indianapolis historian. She will discuss George V. Bedell (1861-1948), who designed churches, schools and theaters. They included Trinity Slovenian Catholic Church, St. Philip Neri Church and the Talbott Theater, all in Indianapolis.
The Indiana Album's project to create a database about Indiana architects and their works is seeking volunteers to help with research, data entry and other aspects; to participate, contact info@indianaalbum.com. On Hoosier History Live, we have explored architecture in Indiana during previous shows, including a program in 2014 with architectural historian William Selm, who described the designs of well-known structures such as the Soldiers and Sailors Monument, Union Station and the Columbia Club.
This time, we will spotlight a lot of residential architecture, although our guest James DeGrazia also plans to discuss the work of Diedrich Bohlen (1827-1890), who, in addition to designing houses in Indianapolis, was the architect for St. John Catholic Church, Roberts Park United Methodist Church and the chapel at Crown Hill Cemetery.
During our show, James also will discuss reasons why, in Indianapolis, there has been a "nearly complete loss of extravagant residential architecture" from before 1880. Our guest Deedee Davis notes that a "gorgeous" house designed by Gibson at 15th and Meridian streets in Indianapolis is now a parking lot for a CVS Pharmacy. Deedee discusses that house and others designed by Gibson in a presentation that's available to watch on YouTube named Convenient and Beautiful: The Architecture of Louis Gibson. During our show, Deedee also will share insights about Scottish-born architect John G. Thurtle (1859-1935), who designed the Gen. Lew Wallace Study & Museum in Crawfordsville. Lew Wallace, a general in the Civil War, was the author of the bestselling novel Ben-Hur; his study is toured by thousands of visitors annually.
Visitors to Madison likely have toured some of the structures designed by Costigan. They include two historic houses built in the 1840s: the Lanier Mansion, an Indiana State Historic Site, and the Shrewsbury-Windle Home, a mansion known for its dramatic spiral staircase. Costigan also may have designed St. Michael the Archangel Church, the Catholic church where he worshipped.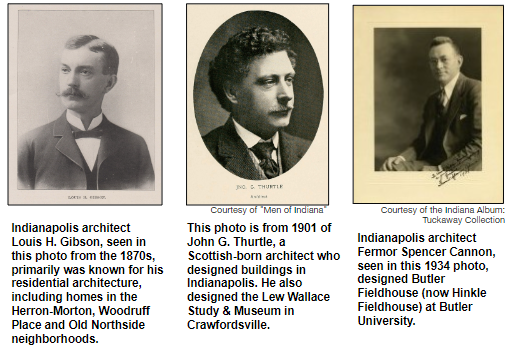 And the basketball arena that we will discuss? It's Hinkle Fieldhouse at Butler University, which was known as Butler Fieldhouse when it opened in 1927 as one of the country's largest basketball arenas.
Our guest Joan Hostetler will share insights about its architect, Fermor Spencer Cannon (1888-1973). Joan notes that Cannon designed the fieldhouse to seat 15,000 spectators at a time when Butler's enrollment was about 1,000.


"Fills a niche for the lover of Indiana history."
- Kathleen Madinger Angelone, retired bookstore owner
Your contributions help keep Hoosier History Live on the air, on the web and in your inbox!